Decoding SEO Packages and Prices: How to Choose the Right One for You
You know SEO is powerful in driving your business growth and establishing a strong online presence. 
But you're knee-deep in jargon, buzzwords, and offers that sound like they're straight out of a sci-fi flick. 
And there are just too many SEO packages for you to choose from! (and it's only in Malaysia alone!)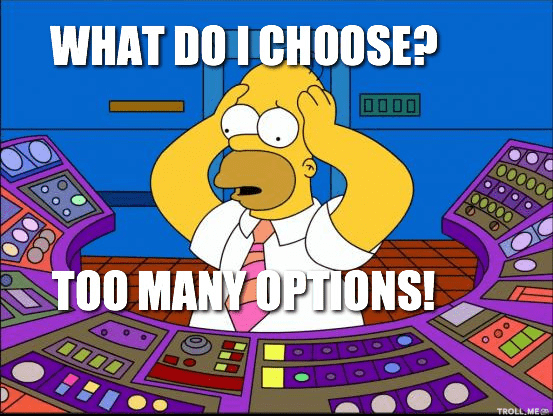 So, to clear your doubt, I've created this comprehensive guide to help you:
Identify the key features you should be looking for in an SEO package
Exploring different types of SEO packages
Types of SEO pricing models
How much does SEO cost
How to maximise your SEO ROI (before you subscribe to an SEO package) 
Let's dive in now!
Why You Should Subscribe to an SEO Package?
Let's first explore the top five reasons why SEO is a game-changer that can propel your business to new heights (if you're unsure of its ability).
Reign Over Search Engines 
Picture search engines as bustling marketplaces, with millions of users actively searching for products and services. SEO allows you to dominate these virtual marketplaces by strategically optimising your website. 
A great example of reigning over search engines is Viral Loop. Notice that the keywords rank by the website keeps increasing over time.
With the right techniques, your business can secure top positions in search engine results, making it easier for potential customers to discover you.
Targeted Traffic Magnets
SEO attracts high-quality, targeted traffic to your website. By optimising your web pages for relevant keywords, topics and user intent, you'll magnetise 🧲 your ideal audience. 
Imagine having eager customers knocking on your digital door, ready to engage with your offerings. SEO helps you connect with these motivated individuals, resulting in better conversion rates and increased revenue.
Authority Amplification
SEO boosts your credibility and positions you as an authority in your industry. When search engines recognise your website as a valuable resource, they reward you with higher rankings. 
As your visibility increases, customers perceive your brand as a trusted expert. This credibility fosters customer loyalty and compels potential customers to choose your business over competitors.
Unleash the Local Market
For businesses targeting local customers, SEO is a game-changer. By leveraging local SEO strategies, you can tap into the treasure trove of potential customers in your area. 
Whether you have a physical store or a service-based business, optimising your online presence for local searches ensures you show up when local customers seek your products or services.
ROI Like Never Before
One of the most enticing aspects of SEO is its remarkable return on investment (ROI). Unlike traditional advertising, where costs can quickly escalate, SEO provides a cost-effective, long-term solution. 
For instance, we have helped one of our clients to achieve an average of 50 leads after 3 months of SEO efforts.

Hence, by consistently optimising your website, you'll reap the benefits for years to come. With SEO, you're investing in sustainable growth and creating a solid foundation for your business's success.
Key Features to Look for in an Effective SEO Package
An effective SEO package is essential for businesses looking to improve their online visibility and drive organic website traffic. 
With so many options available, it can be challenging to determine which package will provide the best results. To help you make an informed decision, here are some key features to look for when selecting an SEO package.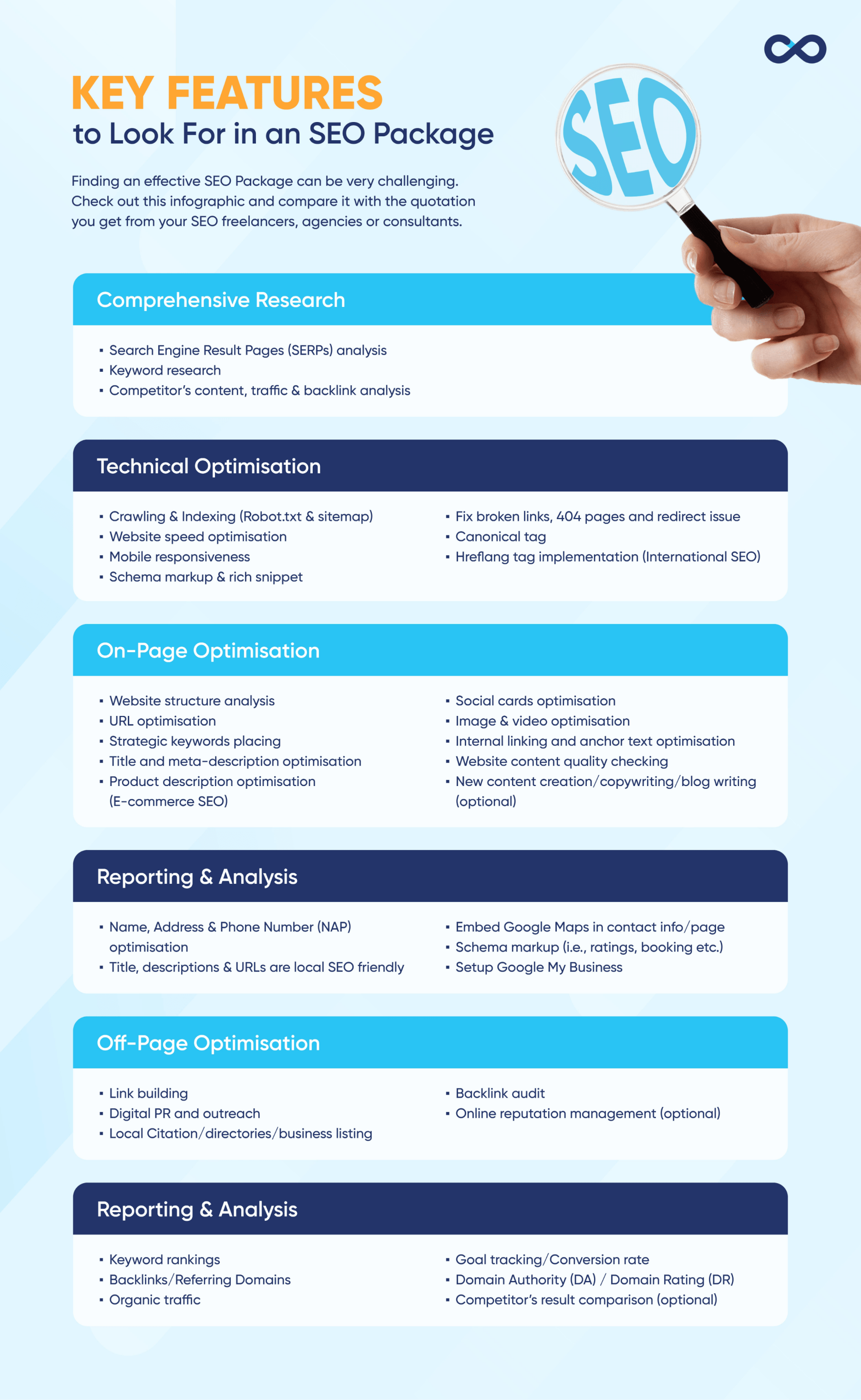 Comprehensive Research
One of the fundamental aspects of any successful SEO strategy is in-depth research.
An effective SEO package should include the following research:
Search Engine Result Pages (SERPs) research

, including People Also Ask (PAA) questions, search intent, type of ranking content, ideal word count, etc 

Competitor's ranking keywords research

to identify keyword gaps and ranking opportunities

Competitor's content analysis

to identify their top-ranking pages, unique content assets, and content strategy (content ideas, publishing velocity and content promotion)

Competitor's traffic analysis

to understand the traffic source

Competitor's backlink analysis

to determine link-building opportunities and strategy
On-Page Optimisation
Next, a good SEO package should also prioritise on-page optimisation.
On-page optimisation is crucial in improving your website's visibility on search engines. It should include:
Website structure analysis

URL optimisation

Strategic keywords placing

Title and meta-description optimisation

Product description optimisation (E-commerce SEO)

Social cards optimisation

Image & video optimisation

Internal linking and anchor text optimisation

Website content quality checking

New content creation/copywriting/blog writing (optional)
Some SEO packages also include local optimisation such as:
Ensure Business Name, Address and Phone Number (NAP) are consistent across all platform

Ensure title, descriptions & URLs are locally SEO friendly

Embed Google Maps in contact info/page

Schema markup (i.e., ratings, booking etc.)

Setup Google My Business
Off-Page Optimisation (Link Building)
Backlinks are an important factor in determining a website's authority and credibility in the eyes of search engines. It serves as a vote of confidence, showing that a page has valuable content.
In case you don't know, backlinks are links from one website to a page on another website through anchor text.
For instance, one of our articles on SEO strategy has been featured on the G2 blog and there's a link to our article. This link is considered a backlink.

And research conducted by Ahref found that backlink has the most significant impact on SERP ranking.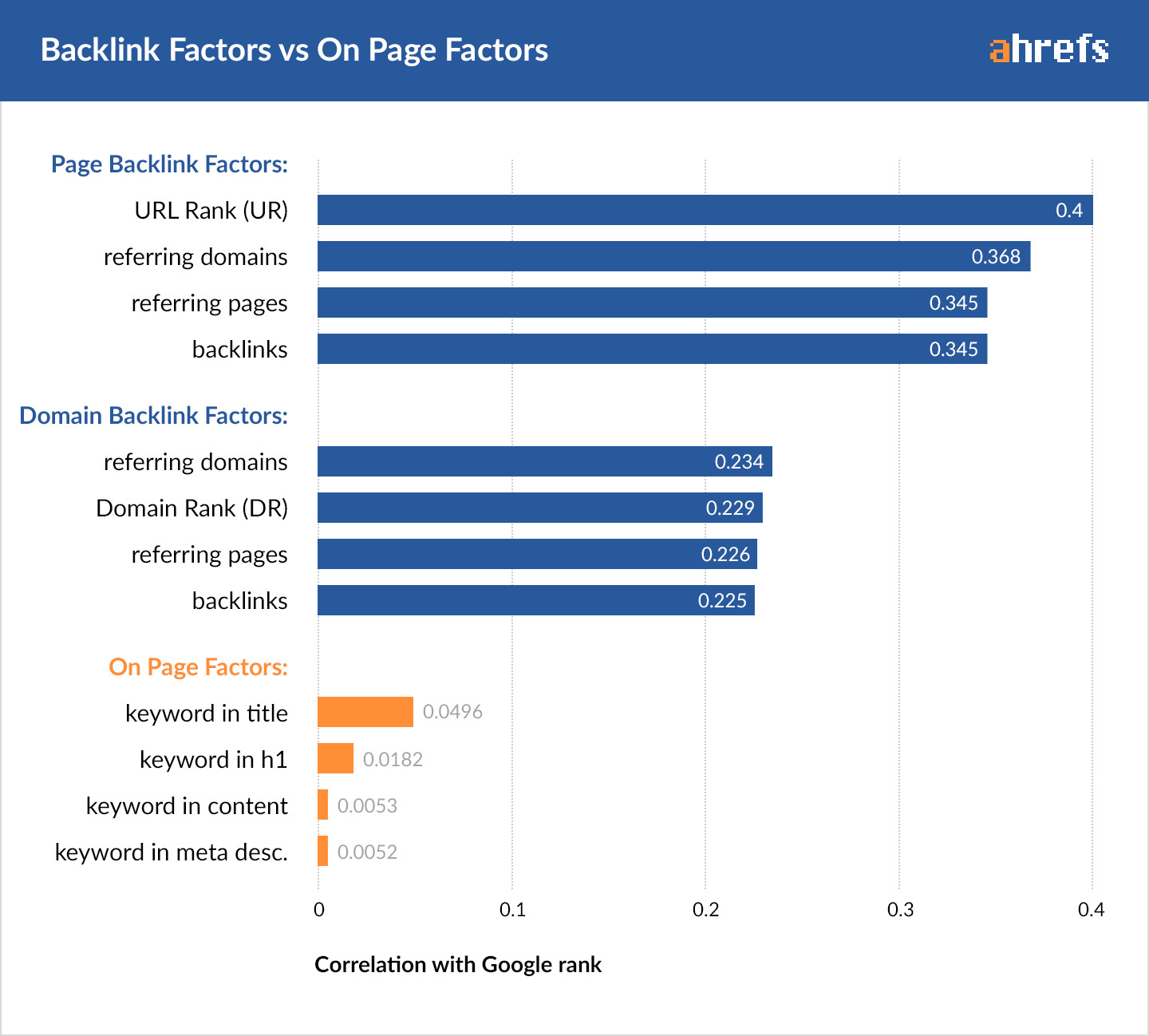 Therefore, a good SEO package should include backlink-building strategies to enhance domain authority and improve search engine rankings. 
High-quality backlinks from reputable websites indicate to search engines that your site offers valuable content worth linking to. This can significantly boost your organic traffic and overall online visibility.

Regular SEO Audits
As SEO is an ongoing process that requires continuous monitoring and adjustment, an effective SEO package should include regular audits of your website's performance to identify areas for improvement. 
These audits evaluate various factors such as:
Crawling & Indexing (Robot.txt & sitemap)

Website speed optimisation

Mobile responsiveness

Schema markup & rich snippet

Fix broken links, 404 pages and redirect issues

Canonical tag  

Hreflang tag implementation (International SEO)
Reporting and Analysis
To gauge the success of your SEO campaign's success, access to comprehensive reporting and analysis is crucial. 
A good SEO package should provide detailed reports that contain data or highlight key metrics such as:
Keyword rankings 

Organic traffic 

Goal tracking/Conversion rate

Domain Authority (DA) / Domain Rating (DR)

Competitor's result comparison (optional) 
This allows you to track the progress of your SEO efforts and make data-driven decisions for future optimisation strategies.
Exploring Different Types of SEO Packages
So now you know the key elements of a great SEO package. However, there are still tons of SEO packages out there.
So how do you know which package you should go after?
To clear your doubt, I will share various types of SEO packages available, each tailored to cater to different business needs and budgets.
Keyword-based SEO Package
Keyword-based or Local SEO package is the most prevalent SEO packages promoted in various countries, including Malaysia, as it is suitable for businesses targeting specific regions within a country.
These packages optimise a website's visibility among local customers, ensuring that it appears prominently when users search for products or services in their vicinity. 
Other than standard competitor research, SEO audits, reporting, and on-page and off-page optimisation, keyword-based SEO packages often have these features:
A. Target Location-Specific Keywords 
Usually, the SEO campaign will target 10 to 100 keywords associated with your target location. For instance, if your business provides dental services, the target keywords might be "dental clinic in KL" or "braces in Malaysia".
B. Google My Business Optimisation
Google My Business is crucial to attracting local customers as Google will likely show its Snack Pack (or Local 3-Pack) when it detects a keyword with a location.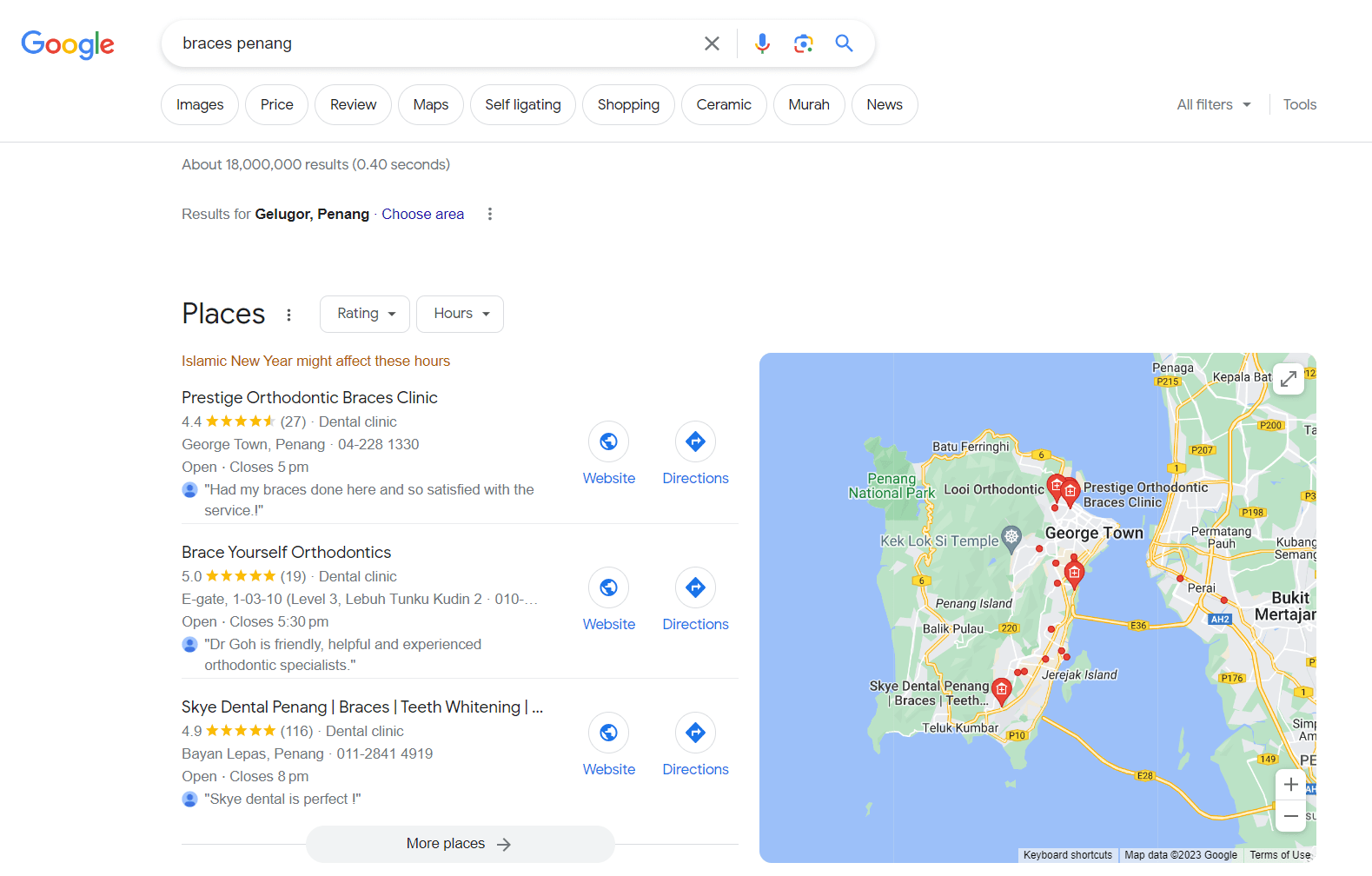 A standard local SEO optimisation involves creating and optimising a Google My Business profile, providing accurate information about the business such as address, phone number, and operating hours. 
C. Obtaining Local Directory Listings
Some agencies include up to several local directory listings in their package. They will help to create and optimise your business profile on Yelp, Yellow Pages, Yellow Bees, etc. This will help your SEO as they provide a backlink to your site and increase your visibility. 
Content-Led SEO Package
Content-led SEO Package is an SEO package that focuses on growing your traffic and leads through publishing high-quality content consistently. It's a mix of content strategy and link building. This package offers content creation services that involve:
Content research and planning

Content production (high-quality informative blog posts, articles, or product descriptions)

Content promotion and distribution

Content performance evaluation 
Content-led SEO packages give you extra advantages that you can't get from normal keyword packages, including:
Dominate organic

ranking for thousands of keywords

that are related to your products or services (Hubspot is a great example)

Get

tons of backlinks

from

very high-quality websites

(i.e., this

Google Ranking Factors

research by Brian Dean gets over 27 K backlinks and 47 K social shares!)

Skyrocket your

organic traffic

consistently 

Able to get a position in the

featured snippet

(Rank zero)

Increase

referral traffic

(i.e., from other websites, forums, social media, etc.)

Create

social flywheel effect

Improve your

topical authority

Build up an

effective marketing system

that aids in the

conversion

process
Here's a real result you'll get when you apply content strategy and link-building to your website 😲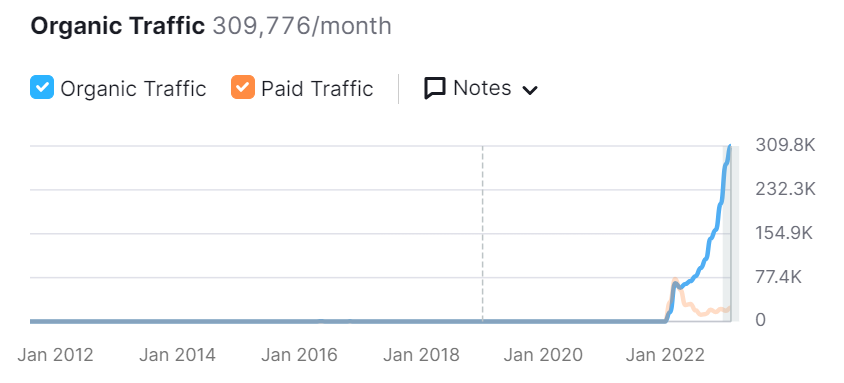 These packages suit businesses looking for a holistic approach to their online presence. Hence, it will be more expensive compared to a keyword-based package. 
Here's an example of a content-led SEO package: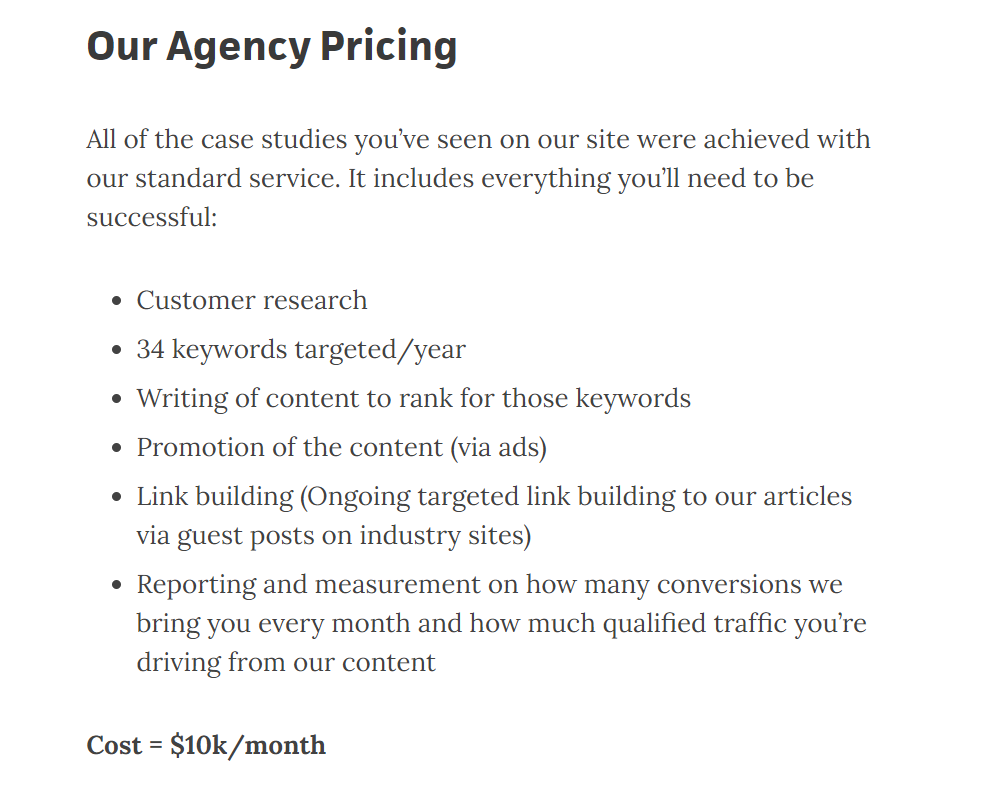 If you want to know more about the power of content-led SEO, check out our post on creating high-quality content that converts.
Sidenote: Although some keyword-based package also provide monthly blog writing, it's still different from content-led SEO package. The largest difference is that the content-led SEO is not limited to blog or long-form content. It can be video, infographics, success stories, case studies, product guides, landing pages and even podcast!
Link-Building SEO Packages
This package focuses on off-page optimisation instead of providing a full SEO service. It's usually more suitable for businesses with an in-house SEO team but lacks resources in link-building. 
Although keyword-based and content-led SEO packages also include link-building efforts, this package will provide more focus on link-building that gives you these benefits:
Rank for

very competitive keywords

Improve your

website domain authority

and

build brand visibility

Improve

organic traffic and social

Reduce your

reliance on paid ads
A typical link building packages contain:
Backlink research and planning

Link building (i.e., guest posting, reclaim brand mention, content assets link, HARO, etc.)

Email outreach and digital PR

Backlink reports
The price of a link-building package varies as it depends on the type and the number of links you want to build per month. 

Customised SEO Packages
Some agencies also provide customised packages based on client's needs, budgets and situations. For example, it can be a mix of monthly content generation targeting location-specific keywords or a keyword-based package mix with monthly bigger link-building efforts. 
SEO Pricing Models
According to research conducted by Ahrefs, there are three major types of SEO pricing models: hourly rate, monthly retainer and per-project rate model. The research also shows that 78.2% of SEO companies charge monthly retainers.
Every model has their pros and cons. If you're curious about which pricing model and whether it's affordable for your business, here's a breakdown for you: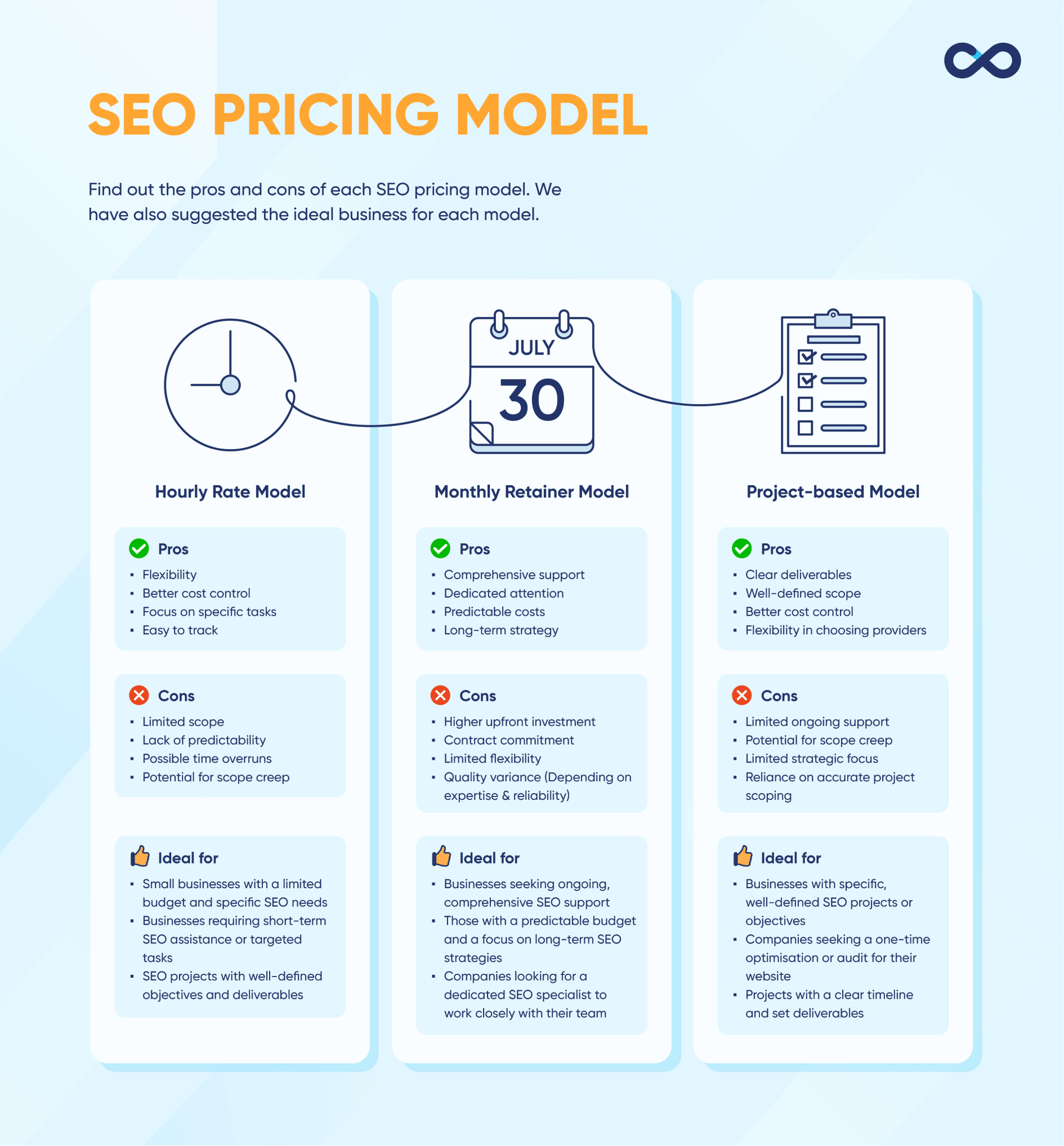 Hourly Rate Model
Pros:
Flexibility

: Hourly rates allow for flexibility regarding the duration and intensity of the SEO work required.

Cost control:

You pay for the exact amount of time spent on your project, which can be beneficial if you have a limited budget.

Focus on specific tasks:

This model is suitable for businesses needing assistance with specific SEO tasks or short-term projects.

Easy to track:

Hourly rates provide clear visibility into the time spent on each task, allowing you to monitor progress effectively.
Cons:
Limited scope:

The hourly rate model may not cover a comprehensive range of SEO services, potentially leaving out crucial aspects.

Lack of predictability:

Since the billing is based on hours, it can be challenging to estimate the project's final cost accurately.

Possible time overruns

: Projects may exceed the estimated time without proper monitoring, resulting in higher costs.

Potential for scope creep

: Establishing clear expectations and boundaries is important to prevent the project from expanding beyond the original scope.
Ideal for:
Small businesses with a limited budget and specific SEO needs.

Businesses requiring short-term SEO assistance or targeted tasks.

SEO projects with well-defined objectives and deliverables.
Monthly Retainer Model:
Pros:
Comprehensive support:

A monthly retainer offers ongoing support, covering a wide range of SEO services tailored to your needs.

Dedicated attention:

With a retainer, you typically have a dedicated SEO specialist focused on your project and providing consistent assistance.

Predictable costs:

Monthly retainers provide a fixed cost structure, making planning your budget and allocating resources easier.

Long-term strategy:

This model allows for strategic planning and continuous optimisation to achieve sustained SEO results.
Cons:
Higher upfront investment:

Monthly retainers generally require a higher initial investment than other models.

Contract commitment:

You may need to commit to a specific duration for the retainer, which may not suit businesses seeking short-term assistance. For instance, many SEO services in Malaysia require you to commit to at least 3-6 months.

Limited flexibility:

Depending on the agreement, changing the scope or services during the retainer period may be challenging.

Quality variance:

The effectiveness of a retainer model depends on the expertise and reliability of the SEO agency you choose.
Ideal for:
Businesses seeking ongoing, comprehensive SEO support.

Those with a predictable budget and a focus on long-term SEO strategies.

Companies looking for a dedicated SEO specialist to work closely with their team.
Project-based Model
Pros:
Clear deliverables:

Project-based pricing outlines specific deliverables, clarifying your expectations.

Well-defined scope:

This model is suitable for businesses with defined SEO needs and a clear understanding of project requirements.

Cost control:

With a fixed price for the project, you can accurately budget and avoid unexpected expenses.

Flexibility in choosing providers:

Since projects have defined start and end points, you can easily switch SEO providers if needed.
Cons:
Limited ongoing support:

Once the project is completed, ongoing optimisation and maintenance may require additional investment.

Potential for scope creep:

Projects may expand beyond the original scope without careful planning, leading to increased costs and timeframes.

Limited strategic focus:

A project-based approach may not allow for long-term strategic planning and continuous optimisation.

Reliance on accurate project scoping:

Defining project requirements accurately is crucial to achieving the desired outcomes.
Ideal for:
Businesses with specific, well-defined SEO projects or objectives.

Companies seeking a one-time optimisation or audit for their website.

Projects with a clear timeline and set deliverables.
Remember, the ideal pricing model depends on your business's unique needs, budget, and goals. It's recommended to carefully assess your requirements and consult SEO agencies to determine the most suitable pricing model for your specific circumstances.
How much does SEO service cost in Malaysia?
Well, I think this is the part where most of the business decision-makers want to know.
To save your precious time, I have reviewed 21 SEO packages from various SEO agencies in Malaysia and analysed their prices.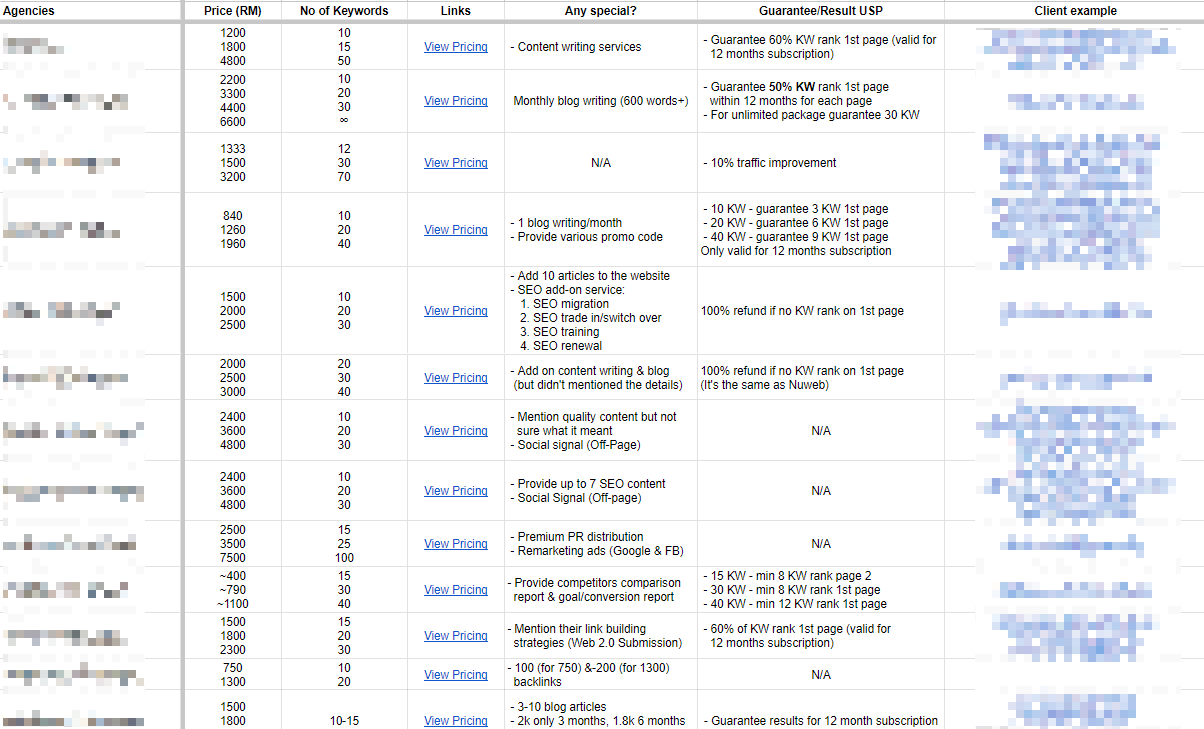 According to the research, more than 95% of SEO packages in Malaysia are keyword-based with a monthly retainer model. Hence, I'll be focusing more on this category.
For keyword-based SEO packages, we found that the price ranges from RM 900 to RM 8000 per month.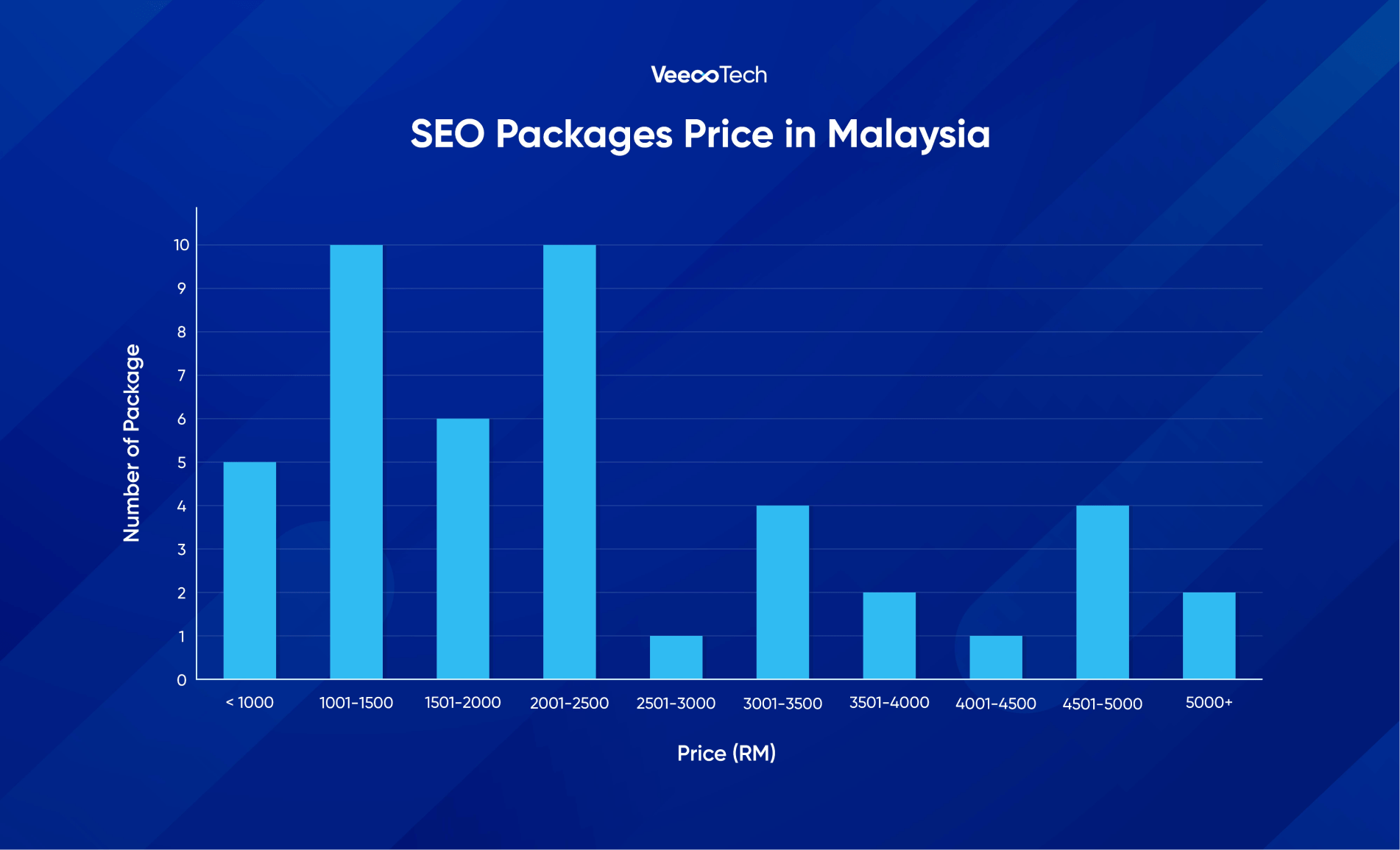 Although some SEO packages include monthly blog writing or content generation, the standard 
There aren't many content-led SEO packages in Malaysia, but the average price ranges from RM 4000 to RM 8000 per month depending on the type of packages and add-on features.
While I don't have data for the hourly rate and project-based models, Ahrefs has conducted a global SEO pricing study so I've summarised and shared it here.
Ahrefs study found that most international SEO agencies charge $75 – $100 (~RM 340 – RM455) per hour.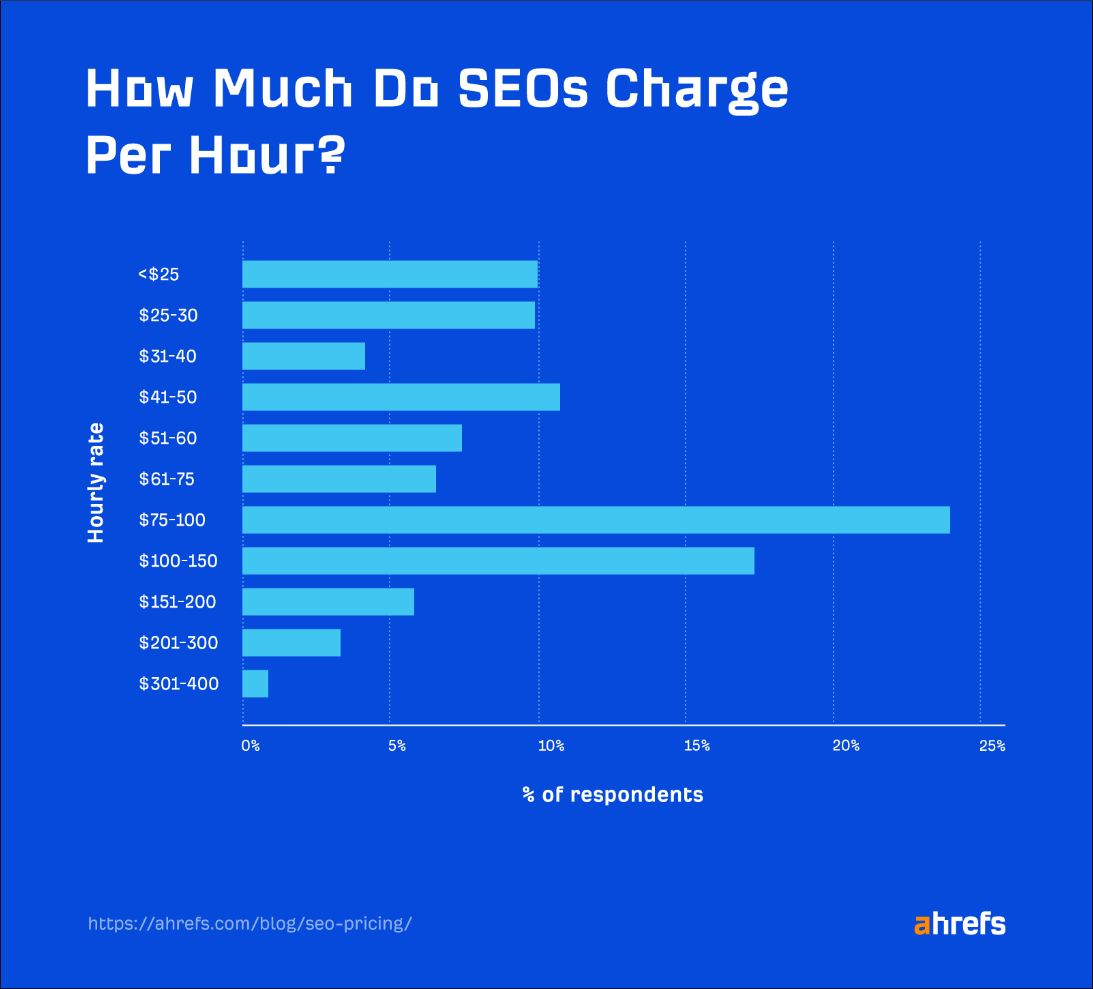 The study also found that the most common hourly rate charged by SEO freelancers is $75 – $100 per hour (similar to SEO agencies). SEO consultants charge slightly higher, which is $100 – 150 (~RM455 – RM700) per hour.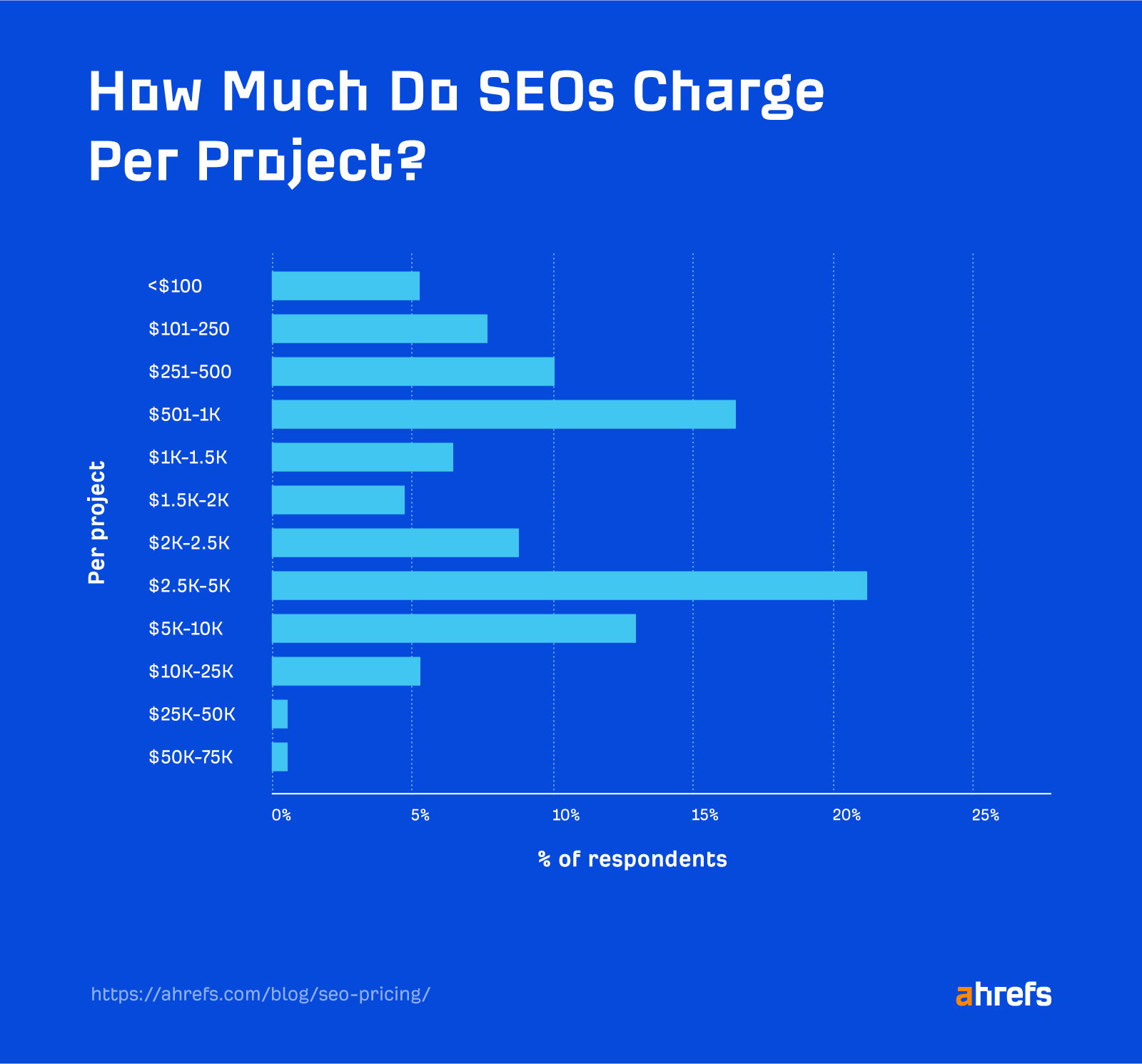 And out of 48.9% of respondents that charge based on the project, 21.2% of the respondents charged $2501 – $5000 (~RM 11,500 – RM 23,000) per project. 
The study found that the most common project-based fee for:
Freelancers: $101–$250 (~RM 455 – RM 1150)

Agencies: $2,501–$5,000 (RM 11,500 – RM 23,000)

Consultants: $5,001–$10,000 (~RM 23,000 – RM 45,500).
Maximizing Your ROI with the Right SEO Package
The right SEO package can significantly impact your online presence, helping you achieve higher rankings, increased organic traffic, and improved conversion rates. 
But how do you ensure you invest in the right SEO package? 
Let's explore the key factors to consider when selecting an SEO provider and how they can help maximize your return on investment (ROI).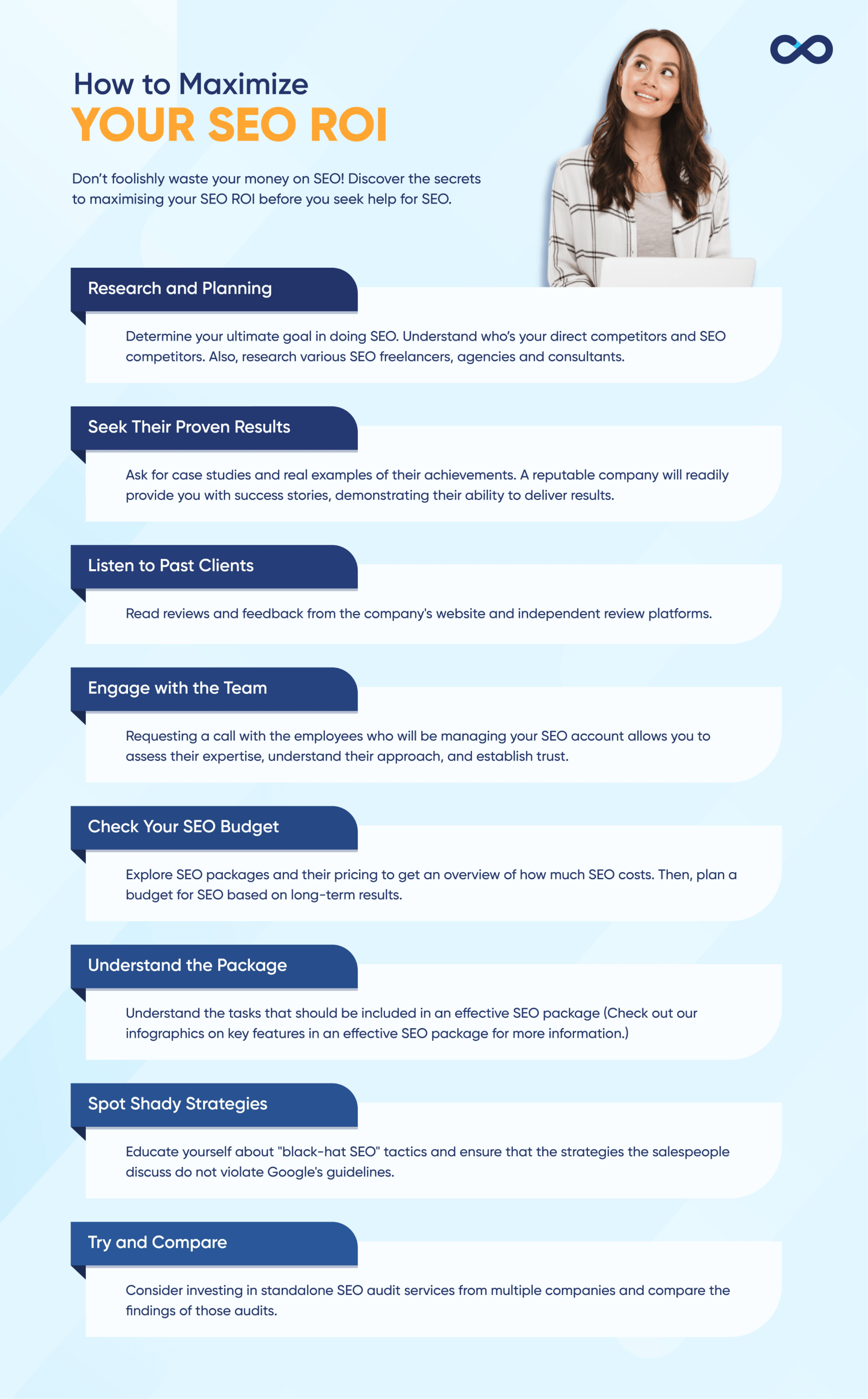 Research and Planning
The first step in selecting an SEO package that delivers optimal results is defining your ultimate goal. This question might sound weird but surprisingly many business owners don't have a goal when they want to do SEO.
Are you primarily looking to increase website traffic? Boost online visibility? Improve search engine rankings? Or generate more leads and conversions? 
Let's say your current website traffic is less than 1k and your goal is to increase organic traffic by 200%, then an SEO package with content strategy is crucial as content is your primary source to attract more traffic. 
On the other hand, if your website has high-quality content provided by experts in this niche but isn't ranking for some of your targeted keywords, then choosing a link-building package might be more suitable than a full-service SEO package.
Check Your SEO Budget
Another critical factor to consider is your budget for SEO. Establishing a realistic financial plan that balances your desired outcomes with your available resources is important. 
As I've mentioned, SEO packages can vary significantly in terms of pricing, depending on the level of service and expertise provided. 
When it comes to budget, consider the long-term benefits of investing in a comprehensive SEO package versus the potential limitations of a more cost-effective option. 
That said, you need to be aware of agencies that guarantee your keyword ranking too quickly or overpromise any results!
A huge study (they analysed 2 million sites!) from Ahrefs found that 95% of newly published pages don't reach the Top 10 within a year.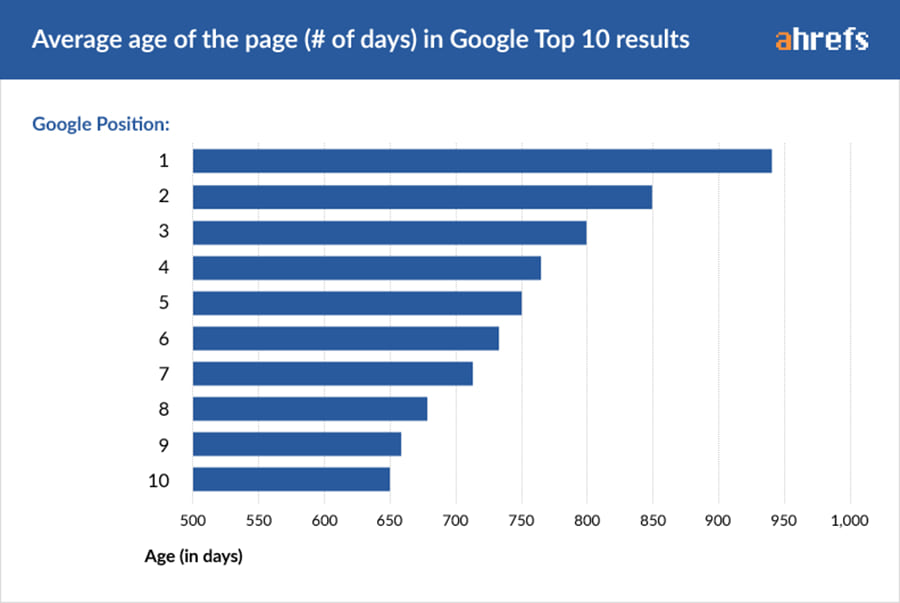 However, this is not an absolute answer as it depends on many other factors such as the level of competition and type of industries. For instance, Google tends to rank news-related content or trending content faster. Hence, your page can rank quicker compared to other industries.
In short, typical SEO packages will require you to sign up for at least 6 months. 
Some agencies also provide a monthly retaining package which helps to monitor your website SEO performance continuously.
Remember, SEO is an ongoing process, and allocating a suitable budget will allow you to maintain momentum and achieve sustainable results.
Package Details
Before deciding, carefully review and compare the contents of the SEO packages you're considering.
A reputable SEO provider should offer transparent information about what is included in each package. Look for features like keyword research, on-page optimization, content creation, link building, technical audits, and analytics reporting. 
Evaluate the level of customisation available to ensure the package aligns with your unique requirements. 
Consider whether the provider offers ongoing support, regular progress updates, and access to analytical data. This evaluation will enable you to choose a package that meets your immediate needs and provides a solid foundation for future SEO efforts.
Seek Their Proven Results
When evaluating SEO companies, don't just rely on their promises—look for tangible evidence of their success. 
Ask for case studies and real examples of their achievements. A reputable company will readily provide you with success stories, demonstrating their ability to deliver results. It may indicate a lack of substantial accomplishments if they hesitate or struggle to showcase their track record.
Listen to Past Clients
Although sometimes reviews can be fake, it's still worth reading reviews and feedback from the company's website and independent review platforms such as Clutch, Sortlist or Trustpilot. 
Keep in mind that even the best companies may have a few negative reviews, so look for overarching trends instead. If you notice recurring red flags or consistent negative experiences, it's a sign that you should probably move on to other options.
Engage with the Team
Request a call with the employees who will manage your SEO account or with the person overseeing the SEO department. 
It's reasonable to want to know more about the individuals working on your website and the strategies they plan to implement. This direct communication allows you to assess their expertise, understand their approach, and establish a level of trust, particularly when dealing with a reputable agency.
Spot Shady Strategies
Educate yourself about "black-hat SEO" tactics and ensure that the strategies discussed by the salespeople do not violate Google's guidelines. 
Avoid companies that engage in unethical practices that could lead to penalties for your website. Legitimate agencies, like VeecoTech, adhere to white-hat SEO principles, operating within the rules set by Google to protect your site's reputation and visibility.
Try and Compare
Consider investing in standalone SEO audit services from multiple companies and compare the findings of those audits. While it may involve additional upfront costs, it gives you a better chance of selecting the most suitable company. 
Once you've chosen an SEO company, share the audit results to ensure that any valuable discoveries you paid for are incorporated into their strategies effectively.
Conclusion
Choosing the best SEO package for your business is crucial to drive organic traffic, improve search engine rankings, and increase online visibility. 
I hope this article helps, and feel free to contact us if you want to know more about our SEO services.
FAQs
Q: How long does it take to see results from an SEO package?
The timeline for seeing results from an SEO package varies depending on several factors such as competition levels, website history, and keyword difficulty. Generally, noticeable improvements can be observed within 3-6 months of implementing effective optimization strategies.
Q: Can I customize an SEO package according to my specific requirements?
Yes! Many reputable agencies offer customizable SEO packages to cater to the unique needs of businesses. You can discuss your requirements with the service provider and tailor the package accordingly.
Q: Will an SEO package guarantee top rankings on search engines?
While an SEO package can significantly improve your website's visibility and rankings, it cannot guarantee top positions on search engine results pages. Search engine algorithms are complex and constantly evolving, making it impossible to guarantee specific rankings.
Q: How often should I expect progress reports from my SEO provider?
A reliable SEO provider should provide regular progress reports that outline the key activities performed, changes made, and improvements achieved. The frequency of these reports may vary but typically ranges from monthly to quarterly.
Q: What happens if I decide to cancel my SEO package before the contract period ends?
Reviewing the cancellation policy outlined in your contract before making any decisions is important. Some providers may require a notice period or charge a cancellation fee if you terminate the agreement prematurely.