Your Detailed Guide to MSME Digital Grant MADANI 2023
First introduced in 2020, the SME Digitalisation Grant 2023 remains true to its mission of providing financial support to businesses.
This grant offers matching grants of RM5,000, making it easier for businesses to embrace cutting-edge digitalisation and automation technologies in their operations.
With strong government support, this invaluable initiative has been extended, and an allocation of RM100 million has been set aside to bolster the grant further.
Now, let's delve into the specifics of this new grant.
What is SME Digitalisation Grant and MSME Digital Grant MADANI?
The SME Digitalisation Grant is a government initiative designed to boost the competitiveness and productivity of businesses by facilitating the adoption of digital services in their daily operations.
It was introduced as part of the 2020 Budget to encourage SMEs to embrace digitalisation in their business operations.
To further support SMEs in these challenging times, the Ministry of Finance Malaysia (MoF) has re-launched the Micro, Small, and Medium Enterprise (MSME) Digital Grant, also known as Geran Digital Perusahaan Mikro Kecil dan Sederhana (PMKS), through the Belanjawan Madani 2023 initiative.
This program is a collaborative effort between the Malaysian government, including the Malaysian Digital Economy Corporation (MDEC), Bank Simpanan Nasional (BSN Bank), and the Malaysian Communications and Multimedia Commission (MCMC).
The MSME Grant is specifically designed for micro, small, and medium-sized enterprises to enhance the digitalisation of their day-to-day business operations by enabling them to acquire digital services from registered Digitalisation Partners (DP) affiliated with the MDEC.
These partners guide and provide digitisation services, with a 50% matching grant available for each company, up to a maximum of RM5,000.
The Areas of Digitalisation Services Available
The MSME Digitalisation Grant 2023 offers comprehensive services to catapult SMEs into the digital age. These services include:
1. Digital Marketing/Sales
This involves employing targeted online strategies such as Website Design, E-commerce platform, Search Engine Optimisation (SEO), Social Media Marketing, etc., to expand market reach and increase sales. The benefits include heightened visibility, broader customer bases, improved conversion rates, and a competitive edge in the digital realm.
2. Digital Payment/e-Point-of-Sales (POS) System
By adopting secure and efficient digital payment solutions, businesses can streamline their sales processes, leading to faster transactions, reduced errors, improved customer experiences, and better financial tracking.
3. HR Payroll System/Customer Relationship Management (CRM)
Automation of payroll management and optimisation of customer relationships drive business growth. Benefits encompass efficient HR processes, accurate payroll handling, enhanced customer satisfaction, and personalised marketing.
4. Enterprise Resource Planning (ERP)/Accounting & Tax
Integrated software simplifies MSMEs' financial management and provides real-time insights. MSMEs gain improved financial visibility, streamlined operations, better decision-making capabilities, and compliance with tax regulations.
5. Digital Signature
Legally recognised e-signatures help MSMEs secure document authenticity, leading to faster document processing, reduced paperwork, enhanced security, and cost savings.
6. IoT/Intelligent System
Embracing an IoT system is one of the main objectives of Industry 4.0. By integrating smart technology to interconnect and optimise diverse business operations, MSMEs can improve operational efficiency, make data-driven decisions, reduce costs, and enhance customer service.
7. Cyber Security
Ensuring robust cybersecurity is vital for safeguarding your digital assets and sensitive information, particularly in an era of cyber threats. Cybersecurity services like Penetration Testing and Vulnerability Assessment enable you to mitigate these threats, maintain regulatory compliance, and instil customer trust.
These digitalisation services streamline operations and empower MSMEs to remain competitive, adapt to changing market dynamics, and achieve sustainable growth in the digital age.
Eligibility Criteria for the MSME Digitalisation Grant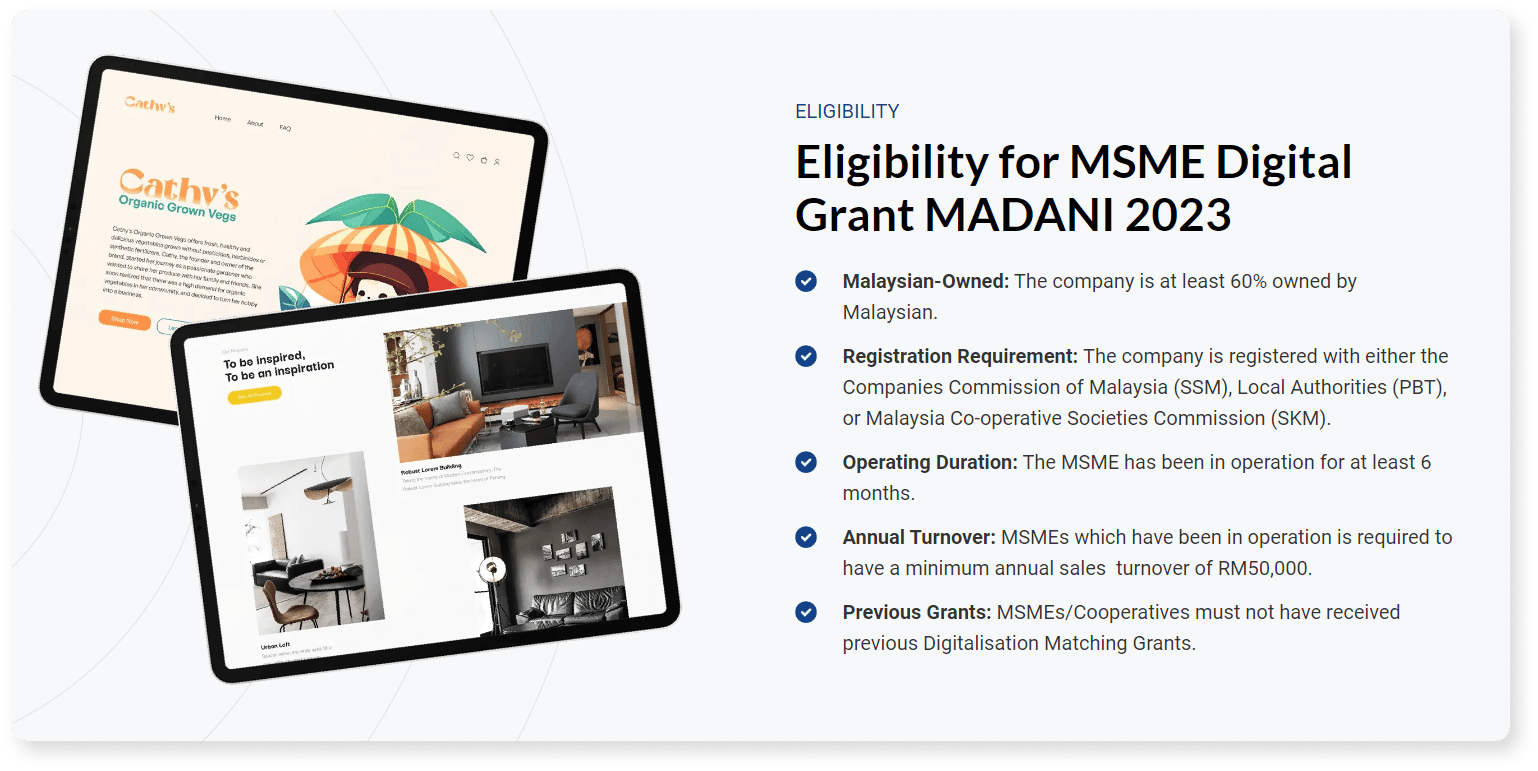 To ensure that your business qualifies for the MSME Digital Grant MADANI 2023, please consider the following eligibility criteria:
Ownership Requirements
Your MSME or Cooperative must have at least 60% ownership by Malaysian citizens, emphasising the government's focus on supporting local entrepreneurs.
Registration Credentials
Your business must be registered with the Companies Commission of Malaysia (SSM)/Local Authorities (PBT) or Malaysia Co-operative Societies Commission (SKM). Proper registration ensures transparency and accountability.
Operational Duration
Your business should have a minimum operational history of six months to be eligible. This criterion helps identify businesses with a degree of stability and commitment.
Annual Turnover
Your business must demonstrate an average annual turnover of at least RM50,000, showcasing your active engagement in economic activities.
Previous Grant Status
MSMEs and Cooperatives that have not previously received Digitalisation Matching Grants are encouraged to apply. This ensures that more businesses can benefit from this valuable opportunity.
Essential Documents for Grant Application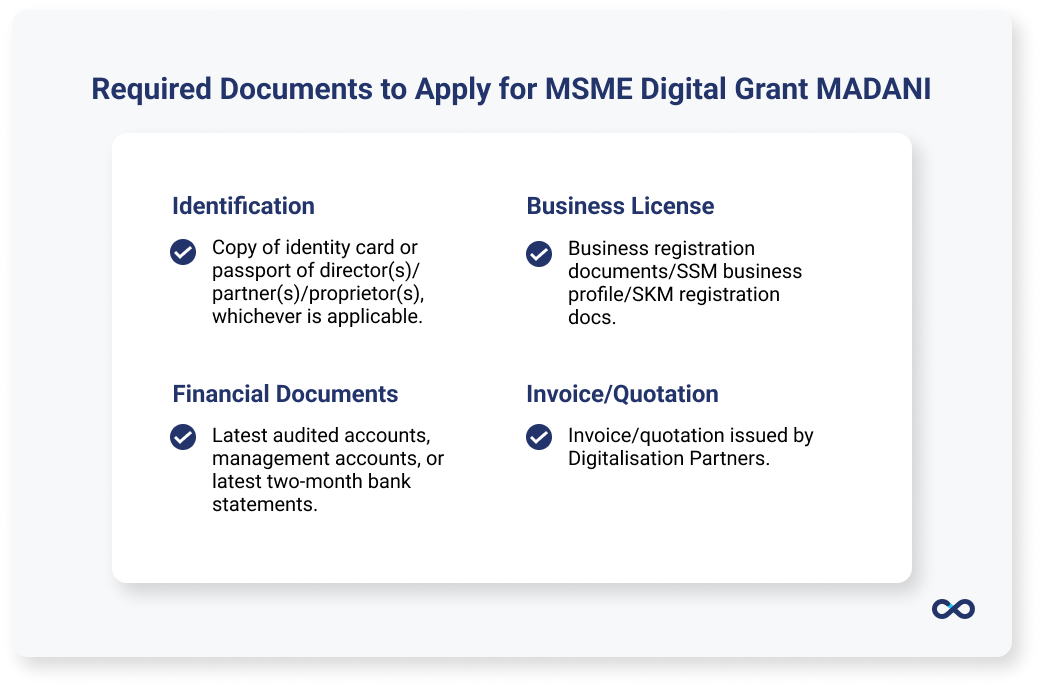 When applying for the MSME Digitalisation Grant, it's important to have the following essential documents in order to streamline the application process:
Identification
Ensure you have a copy of the identity card or passport of director(s), partner(s), or proprietor(s), whichever is applicable. This helps verify the key individuals involved in the business. Do not add any watermark on your IC copy and ensure your IC copy can be seen clearly.
Business License
Gather your business registration documents, SSM business profile, or SKM registration documents. These documents demonstrate the legitimacy of your business and its compliance with local regulations.
View Sample of SSM Business Profile (For Sdn Bhd)
View Sample of SSM Business Profile (For Sole Proprietor & partnership)
Financial Documents
Prepare your latest audited accounts, management accounts, or the latest two-month bank statements. These financial records provide a snapshot of your business's financial health and stability.
View Sample of Latest Two-Month Bank Statements
Invoice
Have an invoice or quotation issued by Digitalisation Partners, showcasing the cost of the digitalization services you intend to acquire. This document is vital to understanding the scope of your digitalization project.
How to Apply for MSME Digital Grant MADANI 2023?
Check out our recent video to learn how to apply MSME Digital Grant:
Follow these steps to apply for the MSME Digital Grant MADANI:
Step 1: Application & Selection
Before contacting your preferred Digitalisation Partner, please verify your eligibility for the MSME Digital Grant.
This grant is accessible to MSMEs and cooperatives that meet specific criteria. If you qualify, ensure you have the documents mentioned above and contact your chosen DP to request a quotation.
Step 2: Approval Process
Once your documents are ready, visit Funding Societies and choose your DP and digital services. Follow the steps on the website to complete the application form.
Upon approval, MSMEs and cooperatives will receive notifications and must make the remaining payment for the selected services within 14 days using a provided payment link.
Step 3: Payment & Service Delivery
Once payment is made, the selected DPs will provide the digital services to the MSMEs and cooperatives. The grant covers 50% of the invoiced amount or up to RM5,000.00.
Step 4: Claim & Disbursement
DPs must submit a claim form and proof of delivery upon service delivery. Once approved, 50% of the total invoice amount (or up to RM5,000.00) will be disbursed to the DPs.
If you choose us as your digitalisation partner, please follow the steps in the image below: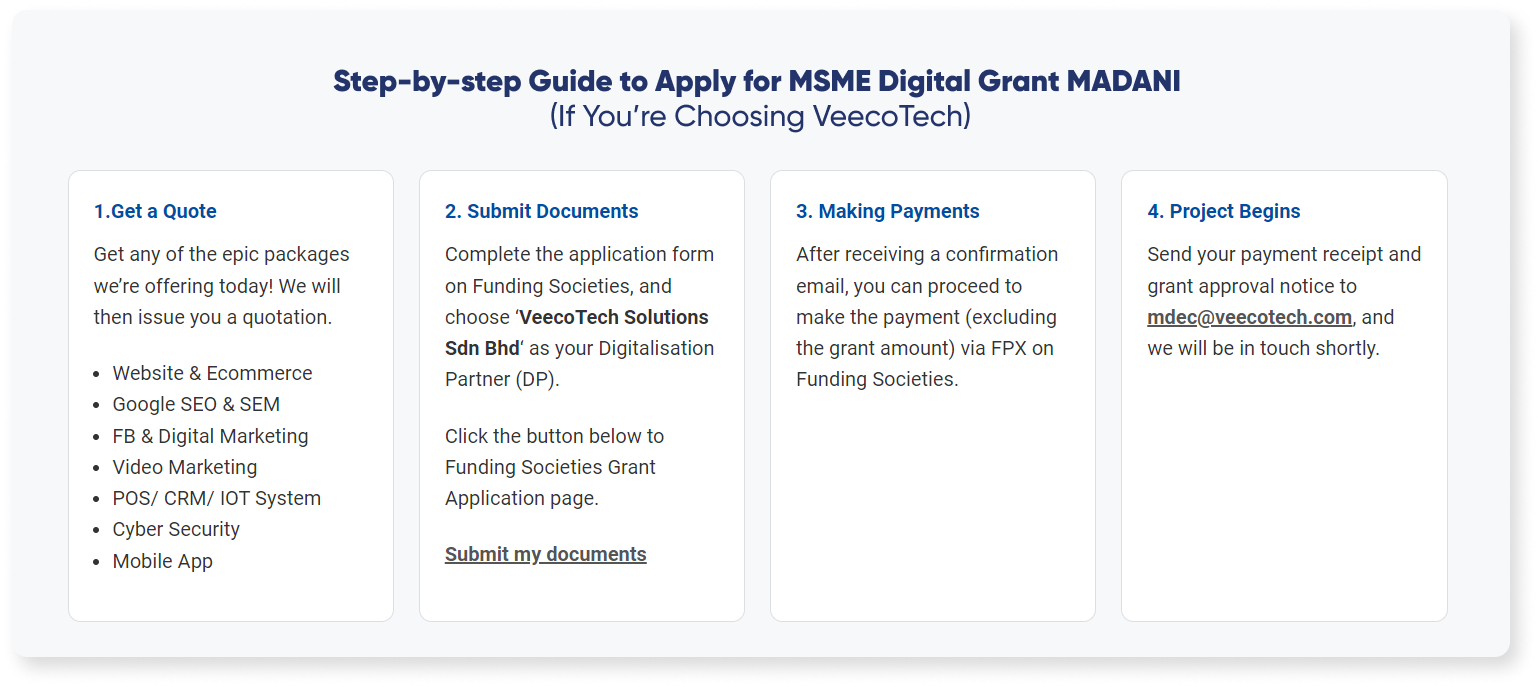 Frequently Asked Questions (FAQ) About MSME Grant
Can I apply if I have already gotten the 2020 SME grant?
No. MSMEs or cooperatives that have previously obtained a Digitalisation Matching Grant are not eligible for the MSME Digital Grant MADANI.
Can I apply if I applied but failed to get the 2020 SME grant?
Yes, you can apply.
What's the highest amount I can request with this grant?
This grant supports up to 50% of the invoiced total or a maximum of RM5,000.00 for each qualified MSME or cooperative to facilitate digitalisation.
Am I allowed to apply for multiple services through this initiative?
Absolutely, you can apply for up to three different digital services using the MSME Digital Grant MADANI.
What's the processing time for applications?
The application process typically lasts for up to 3 working days. Upon submitting your application, it undergoes a review for approval. You will receive an email notification regarding the status of your application.
What documents do I need to prepare for the grant application?
You will need to provide:
Completed online application form
A copy of the Owner/Director/Partner's NRIC
Your business registration license or SSM business profile
Most recent audited/management accounts or the last two months' bank statements
Why was my MSME Grant application rejected by Funding Societies?
Past grant recipient: Please check if you have applied for the previous SME Grant. You are not eligible for this grant if you have received the previous grant. If there is any dispute, please contact BSN for clarification.
Incomplete SSM profile: Ensure that your SSM Business profile and documents are completed.
Unclear/Watermarked IC copy: Please avoid adding any watermark to your IC and ensure all the details can be seen clearly.
How much do I pay upfront?
You will need to clear the remaining invoice balance (minus the grant) to the Digitalisation Partner through Funding Societies' payment services within 14 days.
After the service is provided, the Digitalisation Partner will get 50% of the total invoice amount or up to RM5,000.
How to make the payment?
You will receive an email containing a unique payment link. Please make your payment through that link.
What's the next step after I receive the grant approval notice?
Once you have the grant approval notice, kindly forward your payment receipt and the notice to mdec@veecotech.com. We will then reach out to you shortly.