What Is Website Maintenance? A Beginner's Guide For 2023
You need a stunning and user-friendly website for a successful online business. A poorly functioning website or an outdated one can harm your corporate image and business reputation. Regular website maintenance can prevent all these issues and guarantee that your site is operating as efficiently as it can be. 
However, there isn't a single strategy to ensure effective website maintenance without snags. The key to a smooth maintenance process is finding the proper balance. And this is the exact goal of our guide today. 
We'll go through the fundamentals of website maintenance and what you can do to ensure it works as planned for your eCommerce business. By the end of this 7-minute read, you'll understand the advantages of scheduling maintenance activities regularly and the best options for completing these tasks. 
So let's start by exploring what it is.
What Is Website Maintenance?
Maintaining a website is keeping it updated, functionally sound, and problem-free. This should be carried out on a regular basis to maintain the website's health and provide a great user experience and online presence. 
It takes more than just developing, designing, and hosting a website. A vital component of a procedure that guarantees an increased number of clicks, higher conversion rates, security, and a consistent corporate image is a post-development website maintenance plan.
Here's a quick overview of how you can maintain different types of websites:
Test your website in different browsers.

A website should be

tested at least once a year

. Check the information on your site is up-to-date and correct. Bring in an outsider to give your site a fresh perspective.

Check

your contact forms,

checkout process

, and forms at least

quarterly

.

Even though the security and functionality of your website mainly depend on your hosting plans, you can ensure that the security is regularly updated by

installing security software

as soon as possible.

Have automated backups every month

and make sure they work as scheduled. You can do a manual backup if you don't have an automated backup in place. If something goes wrong, you will save considerable time and money if you back up your website regularly. 

Evaluate your website's performance at least once a week

. Start by weekly reviewing your key metrics using Google Analytics and Google Search Console. If your website isn't helping you reach your goals, you can change the key performance indicators (KPIs).
Now that we've covered the basics, let's take a look at the components of a website maintenance plan.
Website Maintenance Plan Checklist
Whether you are managing a small business website or an eCommerce business, you can increase the chances of a net positive by adhering to these maintenance features.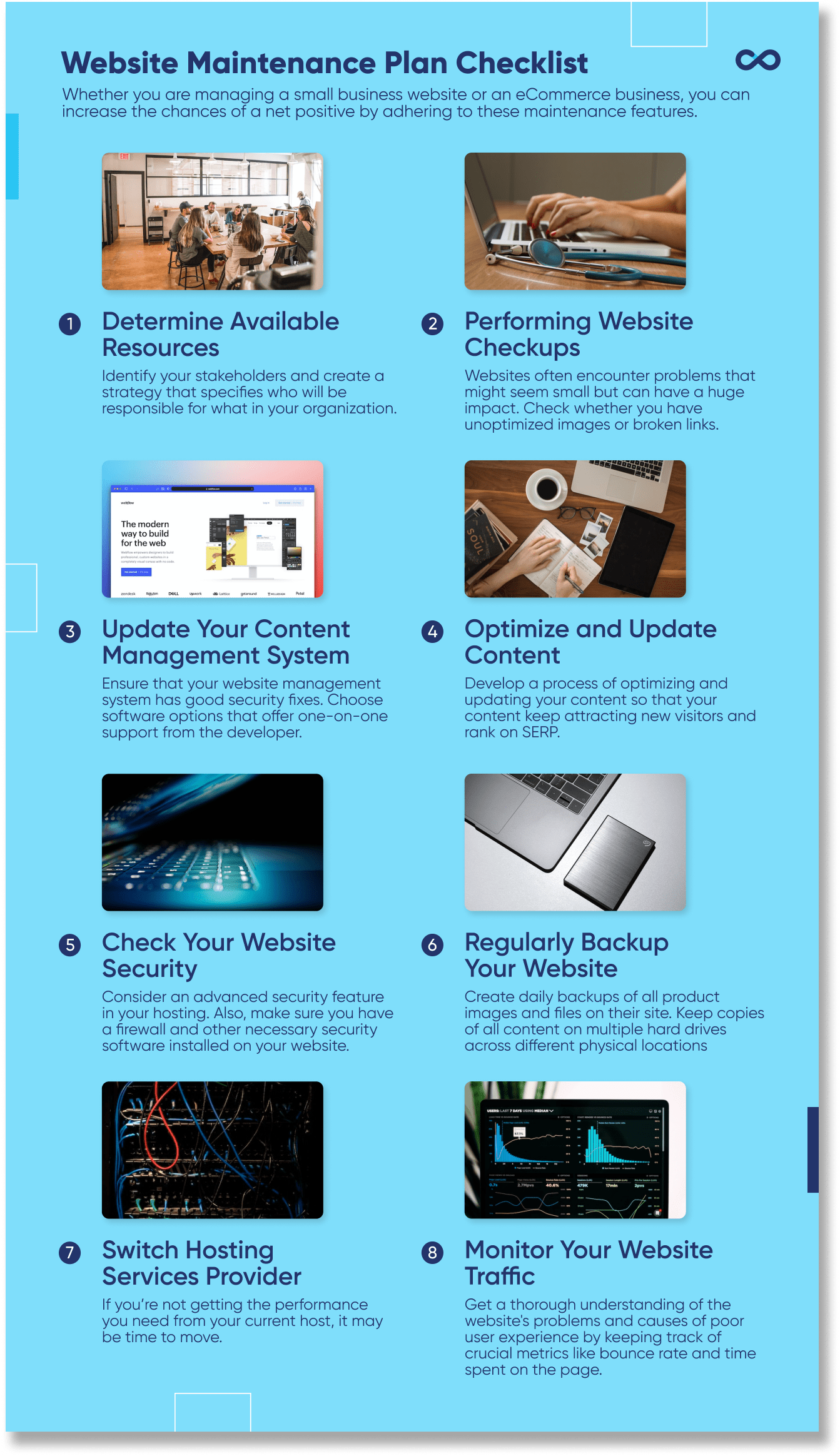 1. Determine Available Resources
Creating and managing a website is one thing, but figuring out who will do what is another. If you want your website to do justice to its growth potential and produce revenue for your business, you cannot cut corners.
UX design updates and content help in elevating the user experience since, for most visitors, your website will be the first point of contact that they have with your brand.
Create a strategy that specifies who will be responsible for what in your organization and how much time will be devoted to the technical maintenance project each week by each individual.
This may be the most essential aspect of the entire process since you have to take people off of other projects to work on the maintenance project. Here's a method for determining the available resources:
Identify the stakeholders:

Determine who needs to be involved in the site maintenance, such as a writer, an editor, or an IT professional.

Assign them tasks:

Designate each of these individuals with clear responsibilities for each of the tasks assigned to them.

Monitor Performance:

Monitor the task performance closely. If you aren't careful, it can drain the team's energy. You can give them a set number of hours to work on the website maintenance task if you don't want them to spend all their time on it, and then revisit to find another solution if it doesn't work out.
2. Performing Website Checkups
Websites often encounter problems that might seem small but can have a huge impact. The majority of these problems can be easily fixed by going through your website's directory structure with a fine-tooth comb. Here are a few things that must be included in the website's regular maintenance schedule:
Spelling errors

Missing alt tags

Duplicate content checking

Broken internal or external links

Invalid or inappropriate redirects

Broken images or videos on the site
3. Update Your Content Management System
One major step in website maintenance is updating the content management system. Content management is all about simplifying the website creation, maintenance, and management processes. 
In addition to helping you design a website, manage all of its essential functions, and develop a content strategy to increase your effectiveness, updating a content management system (CMS) can help you create a content plan or update the existing one. 
CMS software update simplifies website management services. However, finding the right CMS platform depends on your work style, Moreover, with the onset of headless architecture, it is also becomes imperative to compare traditional vs headless cms to find which works best for you. So try out a few options first and see which fits you best.
Choose a content management system based on the following best practices:
To avoid security breaches, you should ensure that your website management system

has good security fixes, such as firewalls and encryption. Set up your best practices, for example, by implementing longer, more complex passwords, enabling DMARC record and training employees for phishing scams.

Sometimes, imperfect software with great support is better than perfect software without support. To troubleshoot problems and potentially adjust the software to fit your organization better,

choose software options that offer one-on-one support from the developer

.
4. Optimize And Update Content
A website's content is anything your visitors will consume on your website. Blog posts are one example of content, but videos, downloads, and live events like webinars can connect you with your visitors too. You can get free traffic to your website by regularly updating outdated content if you want it to generate leads.
Content marketing also includes repurposing old blogs and incorporating new strategies that rose to fame since you last updated your content. Discuss new updates in the industry too. 
Content can serve as a quality source of generating leads. The importance of updating the content cannot be stated enough. This is especially true for the healthcare and wellness sector where the products and their ingredients are always evolving. 
Develop a thoughtful strategy for content updates to keep your customers engaged and ensure they regularly get what they want from you. Here are a few things to consider when developing a digital marketing plan for your content.
Keep yourself updated with search engine optimization best practices when rewriting your content. Google is constantly updating its algorithm and is releasing regular updates on a monthly basis. So if you don't keep yourself updated with these developments, chances are that your content is not going to rank organically, affecting your overall SEO strategy. 

The search volumes for keywords keep changing. The keywords you used in your previous content may now be out of date while new keywords are being added.

Google Keyword Planner and Ahrefs are great tools for discovering new keywords

. If you don't have the time for it, you can take advantage of an

SEO marketing service

. 
5. Website Security
There are many things you can do to keep your website safe, but the most important thing is to make sure it's up to date with the latest security patches. Some other steps include:
Include an advanced security feature

in your hosting.

Make sure you

have a firewall and other necessary security software

installed on your website.
6. Backup Your Website
Backing up your website, especially an eCommerce store is important, but it's not always easy to do. You may not have the resources or expertise to do it yourself, so you might want to hire a professional who can help you understand the backup health of your site and keep it safe.
For routine maintenance, you need a highly effective backup strategy in place that includes:
Create daily backups of all product images and files

on their site. This ensures that any changes made will be saved in case of an emergency like private server failure or host termination

Keep copies of all content on multiple hard drives across different physical locations

as well as cloud storage services such as Dropbox or iCloud

Make sure that

backups are regularly tested before being used in production

environments so they don't contain any malware or viruses.
An excellent example of this is the product-intensive eCommerce store called Julbie. Despite having hundreds of products on their line, you're sure they're backing up their site regularly.
Otherwise, it'll experience lots of downtimes and glitches if they don't. If you navigate through their store, you'll get a smooth experience only a website with regular maintenance will enjoy. 
7. Switch Hosting Service Providers If Needed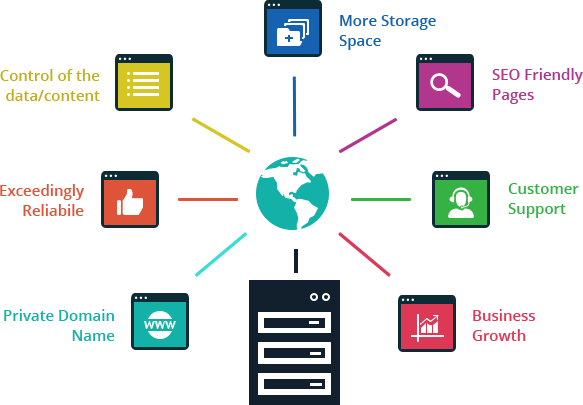 If you're not getting the performance you need from your current host, it may be time to move. Don't sweat the small stuff about hosting costs since you can get a new host offering even more features than the features offered by your existing host.
Additionally, if you're using plugins to automate tasks on your website, make sure it's efficient enough to serve its purpose. For example, if you're using a live chat app, you can use tools or apply best practices to reduce chat agent workload. 
8. Monitor Traffic
Capture marketing analytics as the potential customers visit your website, generating critical data. This will enable you to take advantage of key opportunities to boost efficiency and revenue. 
If you are planning routine maintenance, gather all the data and necessary metrics before moving on with it. Get a thorough understanding of the website's problems and causes of poor user experience by keeping track of crucial metrics like bounce rate and time spent on the page with extra tools like Google Analytics and Clicky.
Your bottom line will also benefit significantly from having access to this data, as you can answer important questions, such as:
Is there a minimum number of visitors I need to make a sale?
Why do so many visitors leave my product pages as soon as they arrive?
How can I determine what content will be most popular among the people looking for different products?
Having the right set of additional tools should make gathering data for website maintenance pretty straightforward, but monitoring traffic presents a few pitfalls you should avoid.
Switching a few things around during routine maintenance may be all you need. Data needs context, so don't make drastic changes based on one data point.
Be selective about which metrics you track and implement the changes accordingly. Your eCommerce business may not care about time on the page, but another company may.
Data can accumulate over time, to make sure you're utilizing all the information you gathered and organizing them for easy retrieval, take advantage of a data pipeline. This will ensure you take all the data into account before you make critical decisions on how to move forward with your business.   
Let's now explore the task schedule that should be used during website maintenance.
4 Routine Website Maintenance Tasks To Note
Here's a quick rundown of the routine maintenance tasks that need to be performed annually, quarterly, monthly, and weekly basis.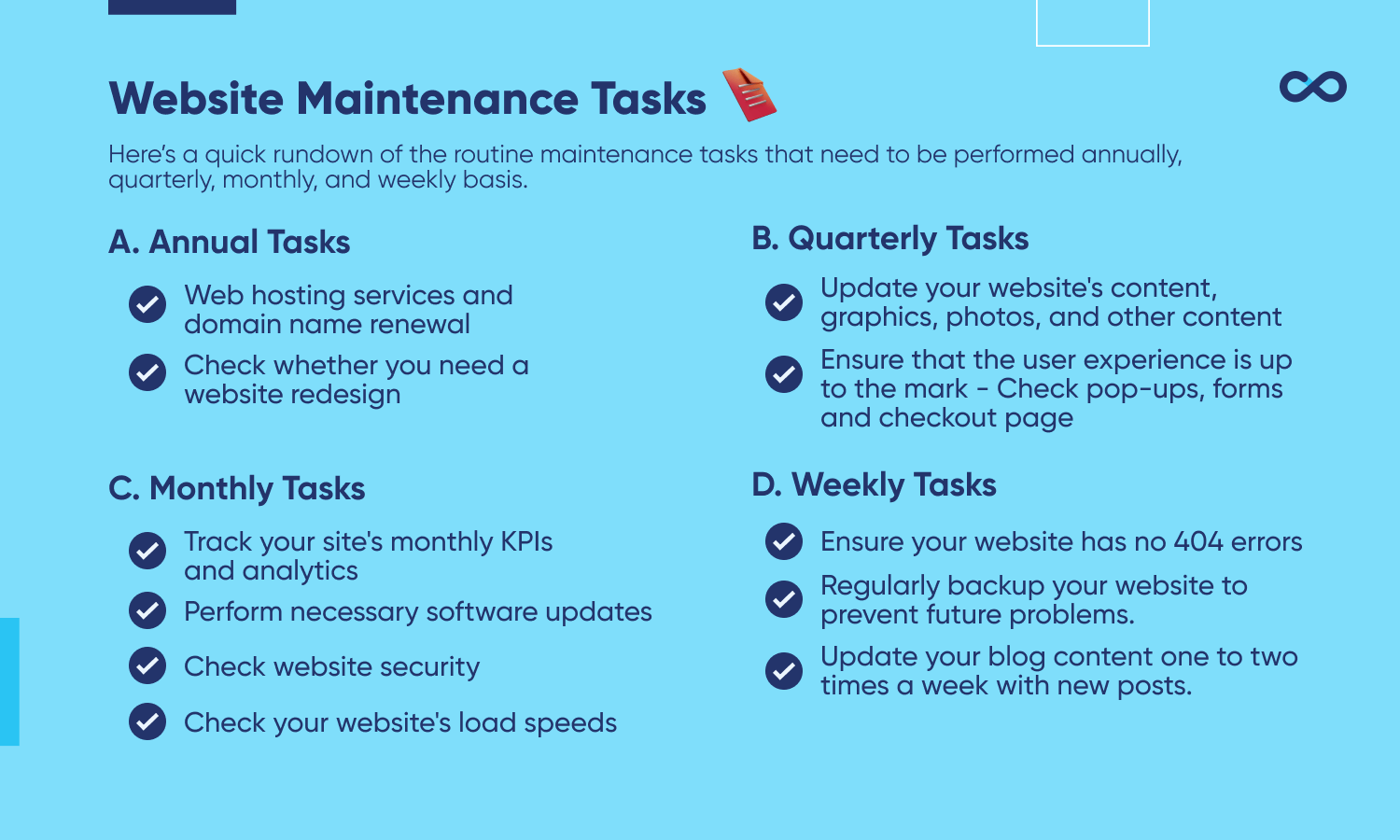 A. Annual Tasks
Web hosting services and domain name renewal

(also known as domain registrations).

Have your

website's design checked

annually to prevent getting outdated. If your website needs serious updating at the end of the year, consider redesigning it.

To e

nsure your site works correctly, it should be viewed in multiple browsers

like Google Chrome, Mozilla Firefox, and Apple Safari. Make sure your site is

compatible with mobile devices

during this time.
Expert Advice
If you feel like your website isn't gaining traffic as you expected, use a domain checker to see if another brand used the domain name. This previous website might have damaged the site's reputation and is affecting your website. 
B. Quarterly Tasks
Update your website's content, graphics, photos, and other content

. Ensure your meta titles and descriptions are optimized. Check your organic search ranking for any blog post and add more valuable information. Finally, check any blog posts that rank exceptionally well and add more practical knowledge.

Ensure that the user experience is up to the mark

by going through the forms, pop-ups, and checkout pages from the user's perspective during quarterly website maintenance.
C. Monthly Tasks
Track your site's monthly KPIs and analytics

to help you meet your goals. Tools like Google Analytics will help you with your website's performance monitoring so you can adjust as necessary.

Perform necessary software updates

for your WordPress site's plugins and backend software applications and ensure they are up-to-date and running smoothly every month if you use a CMS like WordPress.

Ensure your site's security scans

are included in your monthly website maintenance checklist, and security issues (if any) are resolved.

Check your website's load speeds

frequently. No one likes waiting for a web page to load. You should contact your web developer if your website takes more than 3-5 seconds to load.
D. Weekly Tasks
Make sure your website has no 404 errors

and fix them or redirect them to 301.

Regularly backup your website

to prevent future problems. If your website is equipped with an automatic backup plugin, check that it works properly. If not, perform manual backups yourself every week.

To keep your customers satisfied and coming back,

update your blog content one to two times a week

with new posts.

Maintain a low bounce rate by

regularly checking your site for broken links

.
3 Options For Performing Website Maintenance

How do you do website maintenance? Here are 3 choices for you to look at. 
I. DIY Website Maintenance
The best way to reduce additional cost is to manage tasks by yourself if you know the technical aspects. However, it is also important to note that even though you save money in terms of additional maintenance costs, you will have to devote more time. 
Established business owner who run personal blogs or portfolios have few maintenance tasks, so this is an ideal choice.
II. Hire Freelancers
Some might find it helpful to hire virtual assistants or freelancers at hourly rates for fresh content creation, website backup, or implementing security updates. This approach is easy and reduces the monthly costs of maintenance, but it can be time-consuming with lesser control.
If you need different freelancers to handle different tasks, hiring can get overwhelming so make sure to use an applicant tracking system so you can hire the right expert at the right time and start taking the load off your shoulders. 
III. Outsource
Maintenance agencies offer regular website maintenance services to help clients keep their websites functioning, updated, and secure. 
Almost all professional website maintenance service providers offer different maintenance packages to accommodate all types of customers by keeping the average costs of maintenance at reasonable levels. Hiring one of these maintenance providers will relieve a great deal of stress. 
You can be assured that your website will be well taken care of by website maintenance companies with the expertise to handle these tasks daily. As with other tasks, you can also outsource graphic design, content development, SEO management, handling technical issues, and UX analysis for your website. 
Conclusion
Whatever method you use for ongoing maintenance, it all needs to be carefully planned. Use your resources carefully and plan the tasks so that the clients experience the least amount of downtime possible.
Start by creating a checklist and implementing a check-up schedule. Update your CMS and optimize your content. Take note of annual, quarterly, monthly, and weekly maintenance tasks too. 
While you can work on the maintenance tasks yourself, it will be more time-efficient if you let someone else do the job for you, especially if you have a lot on your plate. 
Need expert consultation for the best website maintenance route for your site? Get in touch with us and we'd be ready to help you out and bring your business forward.