7 website design trends for a successful E-commerce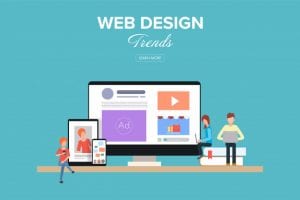 E-commerce websites design need to be able to attracts customers' attention. When you website looks professional and give good user experiences to customers, it increases the chance of them staying in the site longer and eventually purchase your products or services. Your e-commerce website design is essential to a successful business. The website design trends are always changing in time and you have to try your best to catch up.
There are two ways that you can establish an e-commerce website: hiring a website design and development company or building your own using web building software like Shopify or Wix. Regardless of how you build your site, here are 7 e-commerce website design trends to keep in mind to have a successful e-commerce.
1. Mobile responsive
There is a high chance that the first time a customer interact wih your website is through their mobile devices. It is far more onvinient for people to bring arund their smartphones, tablet or ipad rather than their laptop. Therefore, it is a good idea to optimize you site for mobile devices as well.
Having a website that is not mobile friendly could drive your potential customers away to your competitors. In fact, lacking mobile friendly website may cost you more money. Smartphones and other mobile devices are becoming a part of our daily life. If it is within budget, you should consider creating a mobile app specific for your e-commerce website. There are plenty of website developing company like Veecotech that you can hire develop mobile app for you.
2. Avoid stock image
Having quality images in website is a good design strategy. It is visually pleasing and can spice up your website. There are so many sources where you can get good quality images for free. However, keep in mind to limit the use of stock images. Although they can sometimes be free, those images does not have your company brand's sense of uniqeness and feel.
Images are a great way to communicate what your company brand is. So, try to use your own photographs as much as possible and be distinguished among your competitors.
3. Use video
Video is one of the top website design trends. Although, it is nothing that we haven't heard of before. But why is it such a popular trend? Well, simply because, it is the best form of story telling and it can be both visually and audibly pleasing. It keeps the audience attention and engages them. Plus, you will be able to explaining more complex ideas better and have a higher chance of convincing customers to buy your products or services.
However, be careful when using videos because it is easy to overdo then and cause the opposite effect. Be sure to keep the videos short and simple. If it is too long, your audience may get bored and stop watching halfway. Keep it within a reasonable duration.
4. Guided selling
When there are so many option in online shopping, it can get overwhelming. That's why guided selling is useful website design trend to incorporate into your e-commerce website. The guide comes in the form of interactive targeted questionnaires that collect data from users' answers. The guide gives explanations to different options, providing information for customers to help with their decision. It will then present choices of products or services that are suited to customers needs. For a more detailed explanation on guided selling, you can go here.
5. Create great content
Having great content can differentiate you from your competitors. Think of content – in the form of blogs, social media post or photos – as a way to lead your customers toward your product. Be sure to create content that are high quality and centered on the user. Give them something they can learn from or engage with. Avoid the hard-selling method because it may turn your audience away.
6. Efficient loading
Research by Google shows that users would leave a page if it takes more than 3 seconds to load. This means efficient loading time is essential for a successful e-commerce website. To do this, you should optimize any images you are using. You should also consider using lazy loading for your website as it only loads what is needed. This is especially useful for product listing pages.
7. Templates
Depending on the website building software you are using, it often is provided a ready made template for your website. There are a few benefits to this. One of it is that it saves you so much time and energy as oppose to building it from scratch. You don't have to think so much about the framework and the small details. Another thing is that it is the layout that works. That is to say, many would use that same layout because the audience find it pleasing to the eye and is intuitive. The downside is that your site would have no defining features. So, try to incorporate your company's brand and uniqueness to the design.
Conclusion
It is important to remember that website design trends comes and goes like the seasons. When building your website you should keep an eye on the latest advance in technology. Try your best to follow the trends. When in doubt, you could always find inspiration from other websites and incorporate the designs into your own.