9 effective ways to manage and grow your affiliate program
Affiliate program is a great idea especially for E-commerce websites to incline the traffic as well as sales through a huge diverse of traffic sources. Techopedia defines affiliate program  as automated electronic program involving both Web advertiser and recruited Webmasters (affiliates) where they will place the company's advertisements into their own websites. Those advertisements link to the company websites and are referred as affiliate links. Building a network of affiliates once you  start is important, as it allows you to keep growing and have side benefits of growing your Google rank. Let's move on to 9 effective ways to manage and grow your affiliate program .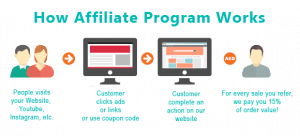 1) Recruiting the affiliates 
You need to be proactive to reach out, contact the websites and contact the known affiliates by offering them the benefits of working with your company. Otherwise, you be one of the thousands companies competing for their time. Therefore, it is important to differentiate yourself by being conspicuous from your competitors. 
2) Managing the affiliates
"Good management is the art of making problems so interesting and their solutions so constructive that everyone wants to get to work and deal with them." – Paul Hawken.
You have to be very proactive in affiliate management. Whoever, handles your affiliate management or even working with your affiliate partners need to pursue a very detailed strategy and take the job seriously. Moreover, you need to inspire your affiliates to contact you for the purpose of discussing about the program or else they won't.
3) Affiliate payout levels
The affiliate payout levels need to be looked out frequently. Initially, pay as much as possible then you are able to reserve a couple of percentage points for those who can produce a serious amount of volume. There are various types affiliates therefore pay them accordingly based on the value they deliver to your company.
4) Don't be cheap with your affiliates and partners
Some companies do not compensate affiliates well enough and look at it as just another marketing channel, this is one of the biggest mistakes that the companies made. So, you need to look at it as a real sales force for your company and need to make it profitable for people to work with you and send you traffic.
5) Affiliate and partner management
When managing affiliate marketers, personalization works the best. The personalised affiliate management usually works better than the mass approach. However, you need to have experienced people to leverage the personalised affiliate management properly.
6) The affiliate network choice
The more you widespread your offer or your advertiser account to several networks, the more the management has to be put forth. Therefore, you also need to make sure that the same order is not being credited to more than one network source. As, you can have problems when you branch it out a little bit wider with the additional networks.
7) Want your affiliate to succeed
Furthermore, facilitate your affiliates and partners with good management, helpful resources, tools, content and information about your company, keywords as well as guidance that will ensure you have well-supported affiliate program.
8) Strategize on growing your affiliate channel
Besides that, you have to put up a new strategy together and ask definite questions for example : "What are we going to do this month to maximize the channel?", "Are we going to run a new promotion?"
9) Spend money on your affiliate channel 
There are several ways that you can spend money onto your affiliate program such as:
Hiring a competent agency
Paid the recruitment emails via affiliate networks
Advertise in Google and Yahoo or Bing
Advertise on Facebook and affiliate forums
Attending to affiliate summit
That is the end of this topic.
Sources: https://www.linkedin.com/pulse/9-ways-effective-manage-growing-your-affiliate-program-evan-weber
 https://www.osiaffiliate.com/affiliate-marketing-benefits.htm
Learn more @VeecoTech