Project Description
How a Brand-New Website Achieved 331% Organic Traffic Growth in 3 Months
Skye Dental, a dental clinic that recently established its online presence. Despite being in a highly competitive industry, they faced the challenge of building visibility and attracting traffic to their brand-new website.
Recognizing the need for assistance, they approached us. In just three months, our strategic approach led to an impressive 331% surge in organic traffic and a consistent stream of 50 monthly leads generated through their website.

Building Success from Scratch
We onboarded the client in March 2023, initiating our first meeting to understand their target market, unique selling proposition (USP), and objectives.
After conducting a comprehensive technical audit of their new website, we identified issues such as poor URL structure and sitemap problems, resulting in failed indexing by Google.
Additionally, there was limited information related to their core services, as all services were consolidated under a single page.
To enhance the overall user experience, we helped the client reorganise services into dedicated pages, effectively conveying each core service, and fixing technical issues on the website.
Blog pages were also restructured into individual posts with tags, making them more favourable to both search engines and users.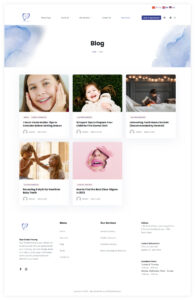 We then optimised the website content based on the search intent of the target market, and ideal content length, and strategically placed the right keywords into relevant content and meta tags.
By conducting thorough keyword and topic research, we worked closely with the client, providing valuable insights and suggestions, and assisting them in writing engaging new blog content.
Visibility is Our Priority
In addition to on-page optimisation, we implemented a strategic link-building campaign, specifically through outreach efforts. Successfully publishing guest posts on relevant websites within the industry, we significantly enhanced the website's visibility.
Moreover, we leveraged the popularity of the principal dentist as a book author and took up the initiative to create additional pages that focus on her books. We also approached influencers to mention Skye Dental's website.
These carefully executed outreach initiatives not only bolstered the website's search engine rankings but also attracted a wider audience, leading to a remarkable surge in website traffic.
Results Speak Louder than Words
We always believe that results carry more weight than mere words. Hence, we demonstrated our expertise in the field of SEO, as reflected in the following summary of achievements within a concise three-month period:
331%

increment in organic traffic

116.2%

increment in SEO keywords ranking
90% of targeted non-branded

commercial keywords

rank on pages 1-2 on Google SERPs
An average of

50 leads are generated per month

Domain Authority (DA) increased

from 3 to 19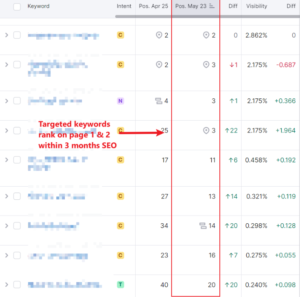 Scope of Work
Technical Audit
Competitor Research
Keywords Research
On Page Optimisation
Content Consultancy
Link Building
Organic Outreach
Guest Posting
Business Profile Optimisation
Reporting
What Our Client Say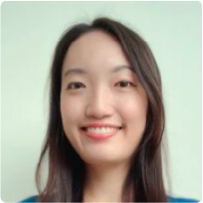 Dr. Felicia
Principal Dentist of
Skye Dental Penang
"I wholeheartedly recommend VeecoTech for anyone seeking top-notch SEO services. Their effectiveness, professionalism, and ability to deliver outstanding results truly set them apart from other SEO companies I have worked with in the past. With their tailored solutions, excellent communication, and proactive approach, VeecoTech has proven themselves to be a reliable and trustworthy partner in optimising online presence. They have earned my utmost respect and gratitude, and I look forward to continuing our successful collaboration in the future."