Why you really really need a website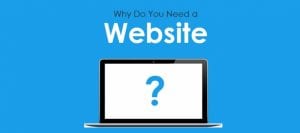 You've been told many times that you need a website. But WHY exactly? Here's 5 main reasons why you need a website.
1. It makes your business searchable and be there when they need you.
Imagine a customer receives a brochure from you, or read about your adverts in newspaper and wanting to know more about your business, what will she do? Google it. She'll first google your company name. Not there? Ok, let's try the product name – she might end up going to your competitors' website, and bought from one of them. With a website and a good search engine optimization (SEO), more people will find your business and thus enhance your sales efforts.
2. It gives your business credibility
When I do research online, first thing I'll look for is the official website before I turn to Facebook, forums, etc. for additional info. I don't feel good working with a company without a website. Website indeed helps in improving customer confidence and boost your corporate image.
3. It connects your business to the world
When you have a website, your business is practically connected to the whole world wide web (www). You will receive enquiries from all over the world, which opens up endless possibilities for your business. Don't ever think that your business is hyper local and you can't get global.
4. It opens 24/7, 365 days a year.
Many people think that an above average website with CMS (content management system) is too expensive. But think again, a website is like a customer service executive that never sleeps – works around the clock 24/7/365 to answer questions from everyone about your business, helps you convert interested prospects into customers.
5. It is the cheapest marketing channel
Yes it is. Build a website is an one-off event. Compared to paid advertising such as Google Ads or YouTube Ads, you're actually saving a lot of money. A website working around the clock 24/7/365 is your most important online marketing channel.
Conclusion
It is inevitable that as long as you're running a business, you really really need a website – a mobile friendly website to be exact.
67% of Malaysian are online, that's about 17,000,000 Malaysian – 94% of them searches online before they make a purchase decision. That's Malaysia alone, how about the 2.92 billion online population worldwide that you can showcase your business to?
Wanna see how we can do for your brand? We are just 1 call away. Contact us today and get started.