What makes a good website?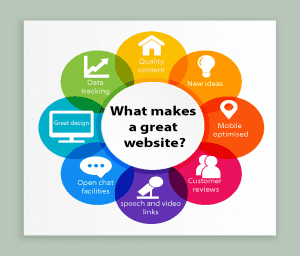 1) Unique design
You don't want you website to look like your competitors; you want to stand out from the rest of your competitors and the best to represent your brand.
Great site design = More trust = Better conversions
2) Responsive web design
It's true: over 60% of searches online now come from a mobile device. Having a mobile responsive website is not just another option—it's a requirement and is approved by Google!
Let's check if your website is mobile responsive? Click here mobile responsive test, so that you can see how easily a visitor is able to use your page on a mobile device. You simply enter a page URL and receive a score.
3) Loading speed
Web user today are used to high speed and optimized website. Trust me, no one like to wait and no one have the patient to wait for your page to load.
4) Search Engine Optimization (SEO) ready!
SEO means optimizing your site to show up in search engines like Google. It's the bread and butter of what makes a good website.
Done right, it can drive thousands in traffic to your site every month without any extra effort. Done poorly, not a soul will find you on Google.
5) Content Management System (CMS)
Content Management System allows you to easily edit your website content without the help of the web developers. Save time, save money!


Website that are design to drive sales. Your website is not just an online brochure. An effective website is designed to drive sales.