Top 5 mistakes your website should avoid in 2020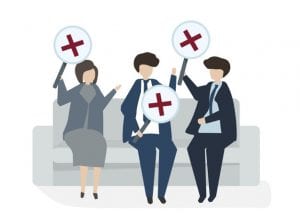 Here are the top 5 mistakes your website should avoid in 2020.
Having a good website gives a clear view of what your business about. It makes your business trustworthy and visitors who are able to browse your site with comfort and ease will soon become potential customers to your business. With a good and reliable website you would be able to expand your business globally, bringing your success to a whole new level. But what if your website happens to not belong in this category of "good" websites? Search engines like Google are always improving their algorithms and with a badly designed website, yours would end up far behind the search rankings. Wonder if anyone scroll pass the first page on a Google search?
1. Your front page is not telling people what is your business about
The main reason a visitor would click into your website is because they want a solution, and they want it right now. If you do not promise your visitors a solution to their needs at the front page, it would make them form the opinion that your services or products are unreliable and click the back button instead. This would further hurt your SEO rankings as Google would deem your website as irrelevant to visitors. A proper home page should look like one below.

2. Bad navigation
Don't you feel frustrated when you don't know where to change your password on a website? A visitor to your website would become frustrated and impatient too if your business promises a solution yet they could not navigate their needs properly on your website. Moreover, it is unlikely you are the only business on your field who owns a website, thus your visitors would have the tendency to browse your competitor's site instead.

3. Not mobile responsive
In 2018, 58% of website browsing originated from mobile devices. Without a mobile responsive website, you are not catering to more than half of your visitors. Google has also started ranking mobile-friendly websites higher while penalizing websites who are not. Thus, having a mobile responsive website is exceptionally important to your website's reputation.
4. HTTP instead of HTTPS
Having a HTTPS website means all information passing between you and your visitor are properly encrypted, safe from the prying eyes of hackers. HTTPS has now become a must for all websites with an e-commerce service, without one your visitors would be reluctant to enter their credit card information as it would be unsafe to do so. If that does not hurt your business enough, Google Chrome now labels HTTP websites as "insecure" which would further deteriorate your visitor's confidence on you.
5. Slow loading times
Having overly large images and poorly embedded videos would cause your website to slow down considerably. One second delay in mobile load times can impact conversions by up to 20%. Hence, having fast loading speeds has become one of the vital factors in owning a good website (test out your site's loading speed). Websites also slow down due to bad website development and bad server hosting.